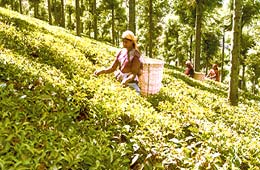 A tea tour to south India will take you to the Nilgiris, a picturesque range of hilly landscapes. It is here that you will find tea gardens at elevations ranging from 1000 meters to 2500 meters.

The tea estates in Nilgiri produce tea that is mild in taste with a mellow and clean liquor. Moreover, tea is grown all year round in the Nilgiri region, unlike Assam and Nilgiri where it is but seasonal. Having a lateritic origin, the Nilgiris soils are red and yellow loam. Most tea plantations here get two monsoons owing to which the tea bushes in South India 'flush' all the year round resulting in cropping season throughout the year.

Tea produced in the tea estates in Nilgiri give a fine and pronounced flavor. The flavor of the tea is derived from the high elevation and prevails throughout the year in the varying degrees. Considered as blender's dream, Nilgiri teas give the liquor body and strength as well.

During a tour of the tea producing areas in the Nilgiri region, the best places to visit are the Kodanad Estate, Lockhart Tea Estate, Highfield Tea Factory, Glendale Tea Estate and Vigneshwar Estate Tea Factory.

The tranquil ambience, soothing greenery and salubrious climate - everything about the Nilgiri region spells magic. So why don't you experience this magic for yourself with a tea tour that will add up as an experience to cherish for life.

Get in touch with us today!



India Profile offers to give you online information on tea estates in Nilgiri, Tamil Nadu India. For more information, please fill up the form.