Introduction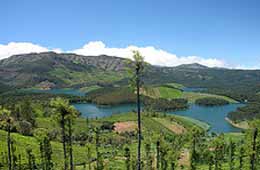 Udagamandalam popularly known as Ooty is the most popular tourist destination. This hill station is also named as 'Queen of the hill Stations' due to it beauty that lies at every corner of the place. Ooty is a favorite tourist destination and apart from that you can see the coffee plantations, other hilly trees. When India was experiencing the rule of British rule, this little paradise was discovered.



Location

The hill station is located on the western ghat at an altitude of 2240 m from the sea level. The hill station lies at the confluence of western and eastern ghats. The place is connected with bus and train route from all the neighboring cities.

About Udagamandalam

The words become limited when it comes in describing the beauty of Ooty. The lake, the wonderfully decorated gardens, the parks and the nearby tourist places and the deep valleys with bounteous waterfalls will surely make you to enjoy the nature in her fullest beauty. The hill covered with eucalyptus, pine, and other hilly plants add life to the tranquil place. Morning is the best time when you can enjoy the serenity of the hills and the misty site of the Nilgiri which is a magnificent sight for every traveler.




Indiaprofile offers local tours in Tamil Nadu .To book a tour or for more information present your queries in the form below.