Goa has travelled a long way being a serene beach paradise due to its beautiful stretch of velvety white sands. The aroma of appetizing seafood, vibrant colors of lights and amazing nightlife are sure to create a mystical illusion and consume one's heart.
Luxury Cruises in Goa are one important factor that draws huge footfall from all parts of the world. The cruises are set to sail across various destinations starting from Mumbai, finally reaching Goa. The designing and decorations of these cruises are according to the cosmopolitan and contemporary lifestyle of people. The cruises are also equipped with all modern amenities that make it synonymous with a floating resort. There are all luxuries available to ensure a high-level of relaxation and comfort to meet then sophisticated requirements of the guests onboard.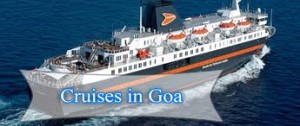 The cruises are more similar to any luxury resort and the facilities like bar and restaurant onboard ensure a wholesome experience. The guests onboard are assured of availability of comfortable accommodation along with delicious food, mocktails, cocktails, etc. For entertainment, space for indoor sports is available. Kid's games parlor are also available for the entertainment of kids. For rejuvenation there also are massage parlor and fitness center onboard.
Goa Cruises also feature casino rooms, for the entertainment of the guests and allowing them to test their luck to win a fortune. The rooms are categorized as Junior Suites, Executive Suites, and Ocean View States Room Suite to meet the specific requirements of the guests visiting Goa from all parts of the world.
A private balcony is also provided in some of the exclusive rooms. The panoramic view of the blue ocean is astounding. While enjoying the cruise, you may also get lucky enough to spot some dolphins.
Various recreational facilities are also available onboard that includes swimming pool, water sports such as basketball and volleyball, and many others.
Some of the popular cruises of Goa are Dolphin Discovery, Santa Monica, Kadmat Island Goa Cruise, Goa Cruise, and Kochi Goa Special Cruise. Various popular destinations are covered through Goa Cruise between Mumbai and Goa. The Luxury cruises in Goa are the preferred choice of tourists as they get an opportunity to cover some of the delighted highlights in a single go.