You can hear the lion roar in the middle of the night even as your morning starts with the chirping of the migratory birds with your stay at the wilderness camps and resorts. The wildlife hotels and resorts offer you an experience of a lifetime! The best wildlife resorts in India are located within the boundaries wildlife sanctuaries such as Kanha National Park, Ranthambore National Park and Bandhavgarh National Park.
India Profile offers information on Top 10 wildlife resorts in India, their location, special features and accommodation details.
Corbett Leela Vilas, Corbett
Location : Birjrani entrance of the Corbett National Park, Uttarakhand
Best time to visit : Except July-September
Special Features : 10 minutes away from the national park, safari tours, pick and drop services, dining and outdoor games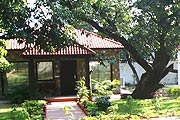 Corbett Leela Vilas is a luxury wildlife resort in the Jim Corbett National Park that is well known for its exquisite setting amidst the jungle and the best place to unwind after a hectic day of safari. The Jim Corbett was opened in 1936 and is one of oldest parks in the country famous for its tiger reserve. This resort has 12 deluxe cottages with attached bathroom, living room, kitchen and courtyard. They also have mini bar, tea or coffee machines and room services among the amenities. This is first to visit if you want to stay in the top 10 wildlife resorts in India.
---
Mahua Kothi, Bandhavgarh
Location : Tala Village, Bandhavgarh, Madhya Pradesh
Special Features : safari through Bandhavgarh National Park, wildlife photography, meals served in the garden
Best time to visit : July to October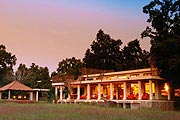 Mahua Kothi is one of the luxury jungle resorts set in absolute wilderness and within precincts of the Bandhavgarh National Park. Mahua Kothi is located amidst 40 acres of sprawling greenery and operated by the Taj group in India. It serves guests from July to mid October every year. This wildlife hotel is accessible from Jabalpur, Kanha Tiger Reserve and Khajuraho. There are 12 well appointed cottages known as Kutiyas and the suites have tiled roofs, fire place and attached verandah. The main Kothi lodge offers the ambience of a country manor. Jeep safari drive to the park, guide, tour assistance, bird watching and library facility are part of your facilities here.
---
Ranthambore Forest Resort
Location : Ranthambore, Sawai Madhopur district, Rajasthan
Special Features : air conditioned rooms with balcony, ethnic and cultural tour, wildlife safari tour, outdoor games, swimming pool, ayurvedic massage on request, camp fire, sightseeing guide
Best time to visit : June to October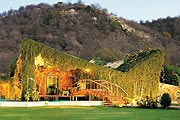 Five acres of greenery, surrounding flora and fauna, minutes from the Ranthambore National Park, make Ranthambore Forest Resort one of the favorite of wildlife enthusiasts. It is rated best among the wildlife hotels in the country for its 46 room deluxe accommodation, sightseeing and wildlife safari facility, round the clock room service and conference hall. Recreation facilities such as swimming pool for adults and children, badminton court, garden and mini golf course make it a sought after retreat for wildlife and nature lovers.
---
The Oberoi Vanyavilas, Ranthambore
Location : Ranthambore, Sawai Madhopur district, Rajasthan
Special Features : Responsible tourism, protection of wildlife, spa, gym, swimming pool, safari tours, Ranthambore sightseeing, luxury tents, restaurant and pool bar and library
Best time to visit : June to October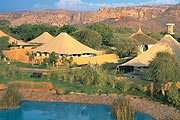 The Oberoi Vanya Vilas Resort is among the top wildlife hotels in India. Owned by one of the luxury chains, Oberoi Hotels and Resorts, Vanya Vilas is situated minutes from the Ranthambore Tiger Reserve. This resort has a picturesque setting, overlooks a watercourse, sun decks and separate luxury tents for accommodation. The tents are well equipped with modern amenities such as television, mini bar, tea or coffee maker and dining facility. You can also avail of spa and fitness training during your stay here. Responsible tourism and protection of wildlife are the main objectives of the hotel.
---
Celebration Van Vilas, Kanha National Park
Location : Kanha, Madhya Pradesh
Special Features : 25 air conditioned rooms and 3 suites, garden spa, wildlife presentations, elephant safari, helipad and cultural program
Best time to visit : Park is closed from June-October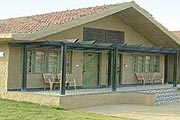 Celebration Van Vilas is one of the popular wildlife resorts close to the Kanha National Park. Located along the Banjar River, private cottages, garden picnics, wildlife jeep safari, forest walking are some of the things you will enjoy with your stay here. Accommodation comprises 25 air conditioned rooms and 3 suites, attached bath and lawn area. Recreational amenities besides the enchanting surroundings include a garden spa, helipad, wildlife presentations, elephant safari, private dining areas, library, shop and tribal dance in the evening.
---
Kaziranga Resort, Kaziranga National Park
Location : Kaziranga National Park, Assam
Special Features : Separate cottages for family and couples, multi cuisine restaurant, wildlife safari tours
Best time to visit : November to May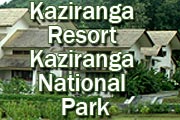 Cluster cottages meant to house family of 4-6 members, honeymoon cottages and Assam type cottages are unique to the Kaziranga Resort of Assam. The Kaziranga National Park is famous for being the habitat of nilgiri bulls and one-horned rhinoceros. This resort in the park premises is the ultimate destination to enjoy the wilderness and natural beauty of the surrounding hills. Horse riding, elephant and jeep safari are some of the activities that guests can indulge in.
---
Sunderban Mangrove Retreat
Location : West Bengal
Special Features : Angling in the river, tiger spotting tours, jungle safari, bird watching, cruises
Best time to visit : Except monsoon months (June-September)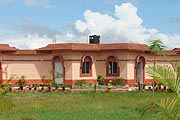 Experience the wilderness of the mangroves of Sunderbans with your stay at the Sunderban Mangrove Retreat. Sunderbans in West Bengal form the largest delta at the intersection of Ganges, Meghna and Brahmaputra rivers. It also contributes to a thriving ecosystem and has a wildlife sanctuary known to be the habitat for royal Bengal tiger species. It is also a World Heritage Site. This resort is situated on the Satjalia Island and is known for its eco-friendly setting. It offers comfortable accommodation, angling opportunities in the Gomor river and safari tours in the deep ends of Sunderbans. 'Bonobibi yatra' is a cultural tribal show performed within the resort premises in the evening.
---
Tusker Trails
Location : Bandipur National Park
Special Features : Deluxe cottages, Jungle safari tours, nature trekking, swimming pool, library
Best time to visit : March to October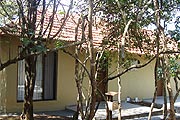 Located amidst 7-acre garden, Tusker Trail lets you enjoy a complete jungle life. Six cottages with double bedrooms and attached bath offer a rustic charm while the 3 ethnic cottages have lavish interiors, lounge area and private balcony. While the constant temptation is to venture out into the open, this resort facilitates outdoor sports, picnic, open-air meals and swimming pool. There are several points from where you can capture the best of nature's images. Jungle safari tours, nature trekking and lazing by the swimming pool are some of the fun activities that are part of your stay here. The tranquility gives enough space for a single traveler to read a book in the library and the children to stroll around the forest.
---
Udai Vilas Palace, Bharatpur Wildlife Sanctuary
Location : Bharatpur-Fatehpur Sikri Road, Rajasthan
Special Features : 40 deluxe rooms and 10 suites, Ayurveda services, sightseeing on request, safari twice daily to the Keoladeo National Park
Best time to visit : March to November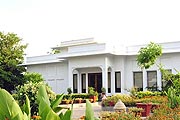 A kilometer's drive from the Keoladeo National Park or the Bharatpur Wildlife Sanctuary, the Udai Vilas is one of the luxury resorts in wilderness. Thousands of wildlife lovers, naturist and jungle trekkers prefer to stay at this hotel mainly for its strategic location, super deluxe accommodation and rejuvenation services such as spa and steam bath. The 40 deluxe rooms and 10 suites cater to your needs. The gym, sports room and Ayurveda services engage tourists when they are not venturing out.
---
Dhikala Forest Lodge, Corbett
Location : Jim Corbett National Park, Uttarakhand
Special Features : Sightseeing tours, jeep safari, elephant safari, photography, budget accommodation
Best time to visit : Except July-September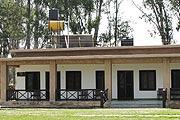 Managed by the state forest department, the Dhikala Forest Lodge provides accommodation in its 32 rooms that also include huts, cabins, rent house and the new forest house. You will cross a dense forest and the Ramganga River to reach this place. The Dhangadi Gate of the Corbett National Park gives you entry to this forest lodge. The lodge is at a distance of 30 km from its entrance and the drive to the Dhikala campus will be memorable.
---