The 3 star hotels in India are ideal for a budget stay even as you enjoy all modern services and facilities to make your business stay or holiday a happening one. There are Three star hotels in city, at the beach destinations and also along the backwaters of Kerala that have well designed rooms and suites, dining facility, bar and lounge, internet and even spa. These hotels match the world standards of hotels and resorts, offer a comfortable stay though not a luxurious one. India Profile offers information on Top 10 3 Star Hotels in India.
The Bell Hotel & Convention Center, Bangalore
Location : Bangalore Central
Special Features : 72 rooms, business center, 3 in-house restaurants, Spinel hall, Jade conference centre and The President (seminar room)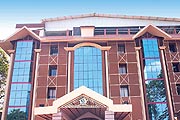 Around 35 km drive from the Bangalore Airport, Bell Hotel and Convention Center offers 3 star facilities and amenities to discerning business tourists and holidaymakers. The Bangalore City Railway Station is just minutes away from this hotel. With exemplary services and hospitality, this hotel is well known for its banquet hall, restaurants and conference facility. Several exhibitions and seminars are held at its convention center. You can also arrange for a grand banquet and wedding at 3 specialized halls. There are 72 rooms here in the superior, premium and business club categories. They are all equipped with internet, television, refrigerator and mini bar. There are 3 restaurants for dining and catering.
---
Mapple Express , Bangalore
Location : Bangalore
Special Features : 54 modern rooms, studio rooms, Elements restaurant, Sao Polo Bar, conference hall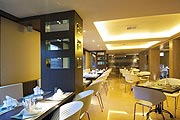 Mapple Express Bangalore is a business class hotel that has 54 well designed and contemporary rooms. It is around 45 km drive from the international airport and haven for those looking for budget yet comfortable accommodation with business center. The style and elegance of the lobby is also commendable. Among the prominent guest services are -dining at the Elements restaurant, Sao Polo Bar, conference hall with a seating capacity for 50 people and sightseeing tours for recreation. The pastry shop here is also an ideal place to unwind. Accommodation comprises deluxe, studio and executive rooms with internet, television, attached bath and television sets.
---
Hotel Royal Residency , Agra
Location : Agra
Special Features : deluxe and executive rooms, luxury suite restaurant, banquet hall, sightseeing facility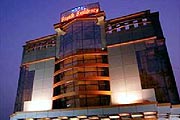 Hotel Royal Residency is a 3 star hotel in the city of Taj and is conveniently located close to the Mughal architectural splendor. Hotel Royal Residency is a budget hotel entertaining holidaymakers with contemporary services and facilities. There are well designed and air conditioned rooms, restaurant, laundry service, banquet hall and conference room at this hotel in Agra city. It also offers sightseeing guide and travel assistance to guests. You can hire cars on rent for a trip to Fatehpur Sikri. The multi cuisine restaurant here serves a delectable range of Mughlai, north Indian and Chinese cuisine. Rooms are available in three categories of deluxe, executive double, luxury suite and luxury family suite.
---
Abad Turtle Beach Resort, Mararikulam
Location : Mararikulam
Special Features : beach cottage and villas, Ayurveda spa, meeting, banquets, Marari Beach tour, tea or coffee maker in rooms, dining facility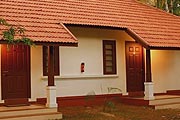 This resort is ranked among the top 10 three star hotels in the country mainly for its lovely ambience and seafood specialty that guests can avail of at a moderate price. It offers all facilities of a luxury hotel and is a sought after retreat for beach lovers and honeymoon couples. Located amidst 13 acres of landscape, this resort is located in the heart of the fishing village of Mararikulam that borders the Marari Beach. There are 29 villa cottages here offering absolute privacy and modern services of dining, Ayurveda spa, meeting, banquets and wedding arrangements. There are also special packages for honeymoon couples and business travelers can choose to have a conference take place on the houseboats.
---
Laguna Anjuna Hotel, Goa
Location : Ajuna Beach, Goa
Special Features : Service apartments and suites, swimming pool, Wellness Tree Gym and Spa, Wishing Tree Café, health club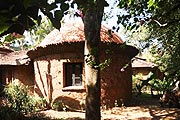 Laguna Anjuna is a country house hotel that is popular for its location along the Anjuna Beach of Goa. This hotel is ideal for a laid back vacation without having to spend a fortune on accommodation. You enjoy the beauty of Goa's landscape, the miles of beautiful shoreline, adventure sports, shopping and dining at Anjuna Beach. Featuring the Goan-Portuguese style of architecture, the resort is located amidst a coconut grove. The interiors feature contemporary furniture giving it the look of a boutique hotel. Though a old Portuguese home, has been renovated to meet all modern demands. There is a kitchen, dining hall, bar and courtyard. You can enjoy the natural breeze along with seafood and fresh Goan fenny.
---
Maharaja Residency and Banquet , Rajasthan
Location : Jaipur, Rajasthan
Special Features : Well appointed rooms, attached baths, toiletries, banquet and conference hall, internet facility, photo copy services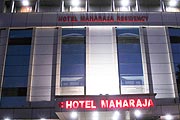 Maharaja Residency and banquet is one of the popular 3 star category hotels in New Delhi. An ideal venue for corporate meets, weddings and banquets, Maharaja Residency offers a relaxing ambience and comfortable accommodation as well. The deluxe rooms have internet, sofa, television, attached bath and provided with basic toiletries. Since banquet is a specialized service of the hotel, guests are ensured of elaborate arrangements. There are floral displays and audio-visual equipments arranged on request as well. The banquet hall has a seating capacity for up to 700 guests. Photo copy services, computers and internet, projectors and catering are part of business services here.
---
Hotel Peerless Inn, Kolkata
Location : Kolkata
Special Features : 122 rooms, suites, Ocean restaurant, Aaheli, Ego Bar, Tea Lounge, gym, work out area, central location and welcome kit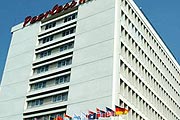 At the heart of City of Joy is Hotel Peerless Inn welcoming you to a great vacation at its 122 rooms and modern suites. The 12 Chowringhee Superiors Suite is the most elite one here. It is situated just 5 minutes from the Esplanade Metro Station and 500 meters from the New Market shopping districts. The area around this hotel is ever bustling with people and accessibility is great from the airport and Howrah station. You can have a memorable business stay here with facilities ranging from conference rooms with seating capacity of 15-50 people and banquet halls accommodating up to 300 guests. For recreation, there is a work out area and gymnasium. Other amenities at Peerless Inn, Kolkata includes Aaheli restaurant serving authentic Bengali cuisine, Ocean restaurant and Ego Bar. There is also a Tea Lounge and pastry outlet open to non-guests as well. Five calls from the guest room are free and there is pick and drop facility on request.
---
The Corus, Delhi
Location : Inner Circle Connaught Place, Delhi
Special Features : Well designed rooms, Bonsai restaurant, meeting facility, internet services, valet parking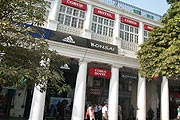 Situated in the Inner Circle Connaught Place, Corus Hotel is close to one of Delhi's prominent business districts. This is one reason why business travelers opt to stay here. Corus Hotel features deluxe rooms in single and double categories and are equipped with large beds, bathroom, hot or cold running water, work desk and internet. Rooms at Corus, Delhi are a blend of fine selection of furniture and design Bonsai is their specialty restaurant offering oriental cuisine. You can also order for grill, seafood and north Indian delicacies. The experienced staffs here excel in hospitality and service.
---
Radisson Blu Hotel, Delhi
Location : New Delhi
Special Features : 261 guest rooms and suites, swimming pool, restaurant, bar, lounge, fitness center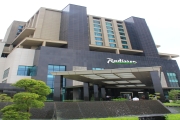 Radisson Blu Hotel Delhi is a well known business hotel near the international airport. It is also 15 km away from the commercial district of Gurgaon. It is one of the top rated 3 star hotels in India with 261 guest rooms and suites, that also includes business class rooms and Presidential suites. The rooms have contemporary upholstery and silk bed linen. There are attached baths, separate living room for suites, work area, in-room dining, mini bar, refrigerator and tea or coffee maker. Wireless internet connection and Wi Fi facility are available in both the rooms and in business center. You will also a fine dining experience here and be ready for the indulgence at the Great Kebab Factory and NYC. You can choose to relax at the R-Lounge and Savannah Bar. Swimming pool, spa and the gymnasium is open to guests for recreation within the hotel premises. It also facilitates relaxation along with complete rejuvenation. Meeting hall at Radisson Blu has a capacity for 500 guests, making it an ideal venue for corporate meet ups.
---
The Residence Hotel and Convention Center
Location : Mumbai
Special Features : Pool side lawn, fitness center, multi cuisine restaurant, bar and indoor conference venue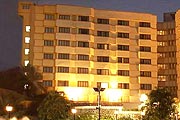 Residence Hotel and Convention Center is a deluxe budget hotel known to entertain both vacationers and commercial travelers. It is located close to the Bombay Exhibition Center where most of the trade fairs take place. The elegantly decorated 143 rooms greet the tourists at this 3 star hotel that has a swimming pool, fitness center, multi cuisine restaurant, bar and indoor conference venue. The pool side lawn is where most banquets take place. The massage center and steam room offers a rejuvenating bath.