What is it that comes to your mind with the word 'spa'? Images that pop up may include mud baths, stone and steam, classes of meditation and spa cuisine at some serene location. When it comes to top 10 spas in India, this is not all that you can expect. These rejuvenating set ups are apparently everywhere. Starting from mountainous location to one in the city you live, you can get the desired relaxation in any spa that you choose. Different types of spas however offer different kinds of massages or treatments. You can choose from hotel spas, destination spas, day spas, salon/ spas and club spas. If you want nothing but the best the spas let you choose the way to get pampered.
Ananda Spa
Location : Rishikesh
Best time to visit : April to October
Specialty : Ananda Spa offers a Stress Management Package for a rejuvenating experience. This is a 5 night's spa package.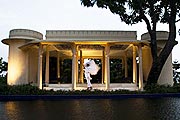 Ananda Spa is also known by the name of Ananda In the Himalayas Spa. It is located amidst the Himalayan Ranges. Ananda Spa is a popular destination spa, which offers treatments based on traditional Indian therapies such as meditation, ayurveda and yoga. It also has a spa boutique with a good collection of organic food as well as soothing music.
---
Maya Spa
Location : Kumarakom
Best time to visit : April to October
Specialty : At Maya Spa you can enjoy the floating spa, which is also known as The Cloud 9 massage.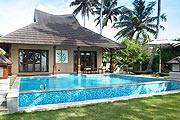 Asia Spa awards felicitated this spa as "Best Resort Spa" in 2007. Maya Spa is placed in Vembanad Lake. Located on the shores of Kerala backwaters, it is a preferred spa destination among visitors from India and abroad. The centre has two branches, one of which is dedicated to the authentic ayurvedic treatments practiced in the state. The other branch concentrates on western and oriental treatments such as Shiatsu, massages, reflexology and treatments for skin problems.
---
Wildflower Hall Spa
Location : Shimla
Best time to visit : April to July
Specialty : The Himalayan Retreat Spa program is a specialty of the Wildflower Hall Spa. It offers full body massage, head massage and cedar bath.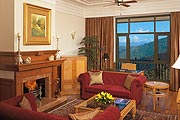 Wildflower Hall Spa is a part of the Wildflower Hall Resort in Shimla. It is located amidst the snow covered Himalayan Ranges, surrounded by the cedar forests in the valley. The spa specializes in aromatherapy and treatments based on ancient ayurveda. It has won "India's Best Spa Resort" award twice.
---
Kaya Kalp
Location : Agra
Best time to visit : October to March
Specialty : Passage to India Spa Journey is a specialty as it helps you get rid of the stresses with ancient ayurvedic therapies and meditation.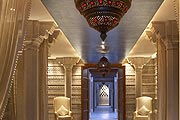 Kaya Kalp is one of the largest spas in Asia. It covers more than 99,000 square feet of area. It's a part of the ITC Mughal Hotel in Agra. The awe inspiring grandeur of the place is the highlight apart from the exclusive treatments.
---
Sereno Spa
Location : Goa
Best time to visit : November to March
Specialty : Marma Facial with the traditional chakra massage is one of the specialties of the spa. These kinds of face massages are best for mature skin.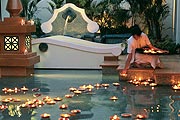 Sereno Spa is placed in an outdoor location in Goa. It lies on the beach with spa pavilions set near the shore. The spa has been felicitated with the "Best Spa in the Asian and Indian Subcontinent" and "World's Number One Spa" awards in 2006 by Conde Nast Traveller. It has special spa packages with special treatments like Abhyanga or "Four Hands Massage".
---
Jiva Spa
Location : Udaipur
Best time to visit: September to March
Specialty : Two special Royal Boat Spa packages called Romantic Spa Indulgence and Romantic Spa Escapade for a spa experience amidst the nature.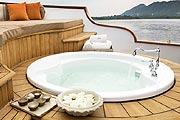 Jiva Spa is a part of The Taj Lake Palace. The place offers exquisite suites with special arrangements and décor for a wonderful spa experience. Most of the massages and therapies are offered on the boat while sailing through the Lake Pichola.
---
Amatrra Spa
Location : New Delhi
Best time to visit : All throughout the year
Specialty : Special spa packages with food, massages and therapies based on Astroveda is provided by Amatrra Spa.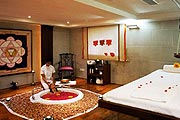 Amatrra Spa is the best lifestyle spa that India can boast of. It won the "Best Day Spa" award from Asia Spa and got a prestigious mention in the "10 Best Spas in India" in the top rated Forbes. Amatrra Spa specializes in reflexology, massages, meditation therapies, yoga and aroma bath.
---
Jiva Spas
Location : Cochin
Best time to visit : October to March
Specialty : The Narikela and Jivaniya are the specialty treatments offered by Jiva Spa in Cochin. These make use of natural elements like herbs and natural oils to give a relaxing massage and stimulate blood circulation.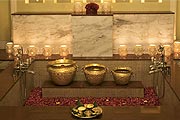 Jiva Spa is rated among the best hotel spas in India by Conde Nast Traveller. It is located in an island in Cochin and is a proud part of Taj Malabar Hotel. Heat stimulating wraps, ancient Indian therapies, naturopathy, ayurvedic massages, herbal scrubs are some of the best spa treatments offered by Taj Malabar Jiva Spa.
---
Amarvilas Spa
Location : Agra
Best time to visit : October to March
Specialty : The Noor-e-Taj is a royal spa package, which includes body massage, bath, body scrub and wrap.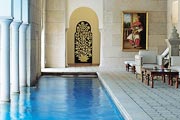 Oberoi Amarvilas has the beautiful Amarvilas Spa. This overlooks one of the Seven Wonders of the World; the Taj Mahal. The spa bath is a royal set up with flowers sprinkled on the water. It is a preferred spa among honeymooners and couples looking for a romantic spa bath. The place offers Thai massages and traditional Indian therapies with herbs and oils.
---
Quan Spa
Location : Mumbai
Best time to visit : October to February
Specialty : Couple special spa packages along with rooms with romantic ambience are offered by the hotel spa.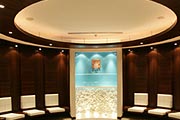 Quan Spa belongs to JW Marriot in Mumbai. It won accolades like "New Spa of the Year" and was rated among the best Hot Spas by Conde Nast Traveller. Quan Spa is known for offering four different kinds of treatments, which includes Indian massages, detoxifying treatments, enhancing spa and rejuvenating therapies.
---