Hotels and resorts form the backbone to the hospitality industry of India. The beach, Ayurveda, golf and casino resorts have particularly gained prominence among travelers for their unique features, world class services and infrastructure. The best resorts in India are paradise for tourists catering to their leisure and business needs. India Profile offers online information on top 10 resorts in India, their location and special features.
Poovar Island Resort
Location : Poovar, Kerala
Special Features : land and floating cottages, floating seafood restaurant, Ayurveda club, swimming pool, multi cuisine restaurant, cruises, angling and cultural program
Best time to visit : March to December
Nearby attractions : Vizhinjam Beach, Poovar Island, Kovalam Beach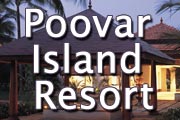 Rated among the best resorts in India, the Poovar Island Resort is situated in Poovar, around 30 km drive from Trivandrum airport. From Kovalam this resort is around 18 km. The resort is also accessible by boat from Poovar town and has the backwaters on one side and the Arabian Sea on the other. It is the ideal place for tasteful indulgence such as water sports, barbeque, sun bath at the private deck and spa. There is also a souvenir shop, the floating restaurant called Fish Market and the Sunken Bar known for its unique cocktails.
---
Agatti Island Beach Resort, Agatti
Location : Agatti Island, Lakshadweep
Special Features : beach huts and bungalows, seafood, Jain dishes, water sports, scuba diving, coconut palm groves, swimming, boat cruises, fishing
Best time to visit : April to October
Nearby attractions : Kavaratti Island, Kalpitti Island, Suheli Par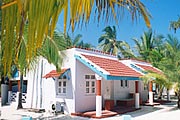 Pristine beauty of the lagoons and the breathtaking views of the landscape along with world class services, make Agatti Island Beach Resort a hot spot for tourists. Situated at the idyllic Agatti Island, this tropical resort facilitates water sports, sun bathing, massage and sea food buffet. Underwater adventure and scuba diving are special indulgences for adventure lovers. Accommodation comprises 9 huts and 10 beach bungalows. The conference room hosts up to 40 guests. You can also avail of Ayurveda massage.
---
Golden Palms Spa & Resorts, Bangalore
Location : Bangalore, Karnataka
Special Features : 132 luxurious rooms and suites, spa, restaurants, bar and lounge, banquet hall and conference room
Best time to visit : Throughout the year
Nearby attractions : Bannerghata National Park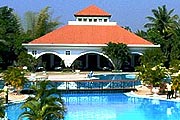 The Golden Palms Spa resort in Bangalore has the distinction of being home to the largest swimming pool in the country measuring 75000 square feet. It also has one of the best equipped spa centers in India. The resort is ideal for a weekend break because of luxurious rooms, 5-star suites, two in-house restaurants and the Aqua Bar. Undoubtedly, the spa center remains the highlight of this resort and there is a diverse menu for rejuvenation. There are outdoor venues for banquets, 3 ball rooms and a poolside venue for conference and seminar.
---
Taj Exotica Goa
Location : Goa
Special Features : Jiva Spa, 56 acres of garden, Arabian Sea coast, deluxe rooms and Presidential suites, Adega Camoens lounge bar, Li Bai for oriental cuisine
Best time to visit : November to March
Nearby attractions : Benaulim Beach, Church of St John the Baptist and Benaulim village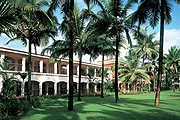 Owned by the Taj Hotels Resorts and Palaces, Taj Exotica Goa is a 5 star resort overlooking the Arabian Sea. This resort is acclaimed for its tropical setting, 50 acres of green surroundings, grand infrastructure and world class facilities. The sun deck atrium, restaurants, bar and lounge, private pools and the Jiva Spa offers an extraordinary stay to both single travelers and honeymoon couples. The Jiva Spa was voted the 6th best in Asia by Condenast Award in 2010. The villas are the best place to enjoy the sea. Those on business trips will enjoy the facility of conference and boardrooms as well.
---
Taj Green Cove, Kovalam
Location : Kovalam, Trivandrum (Kerala)
Special Features : floating cottages, backwater cruises, 2000 square feet of meeting room,
Best time to visit : March to September
Nearby attractions : Kovalam beaches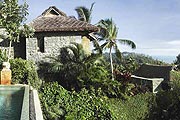 Considered among the best leisure resorts in Kerala, Taj Green Cove is set amidst 15 acres of lush garden. The floating cottages, blue backwaters, coconut groves and the pristine beaches of Kovalam are the draw for guests. Situated minutes from the popular Kovalam Beach, rejuvenation of mind and body should be the only aim while you are here. The hill style cottages offer clear views of the lagoon and nearby green plantations. Just 12 km drive from the Trivandrum international airport, it is easily accessed by the foreign tourists as well.
---
Zuri White Sands Resort and Casino, Goa
Location : Varca Beach, Goa
Special Features : Casino, Maya Spa, 154 rooms and 4 suites, Live Teppanyaki restaurant, the Sake lounge bar, Waterfall Café
Best time to visit : November to March
Nearby attractions : Benaulim beach, Colva, Mobor and Cavelossim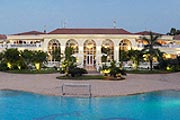 Unlimited fun at the mystical island resort of Goa, Zuri White Sands Resort and Casino brings the Portuguese heritage of Goa alive. It is not only the best place to escape from the city hassles, but also a place of celebration. Hosting 154 rooms, serving Goan and Pan-Asian cuisine, the large swimming pool and the casino has made Zuri White Sands Resort and Casino in Goa the proud recipient of 'Best Hotel' award from the Carlson President. The Maya Spa inspires you to undergo a complete rejuvenation process. Adding a little more excitement to your vacation is the outdoor sports and party lawns.
---
Leela Palace Goa
Location : Goa
Special Features : 12 hole 3 golf courses, 206 deluxe rooms and luxury suites, Riverside restaurant and Susegado, Yali lounge, pool bar and conference facility
Best time to visit : November to March
Nearby attractions : Margao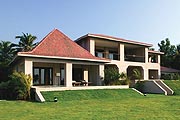 Leela Palace Goa, owned by Leela Palaces Hotels and Resorts is one of the premier resorts well known for its 75 acres of sprawling beauty and the perfect Mediterranean setting. The property features 3 golf courses, swimming pool, library, 206 deluxe rooms and beach villas. With grand dining options and opportunities for leisure and business, Leela Goa is among the top resorts in India. Treat yourself to the luxuries of this elegantly designed resort and dine the best Goan, Continental and Chinese cuisine at the Riverside restaurant and Susegado. The Yali Lounge, pool bar and Aqua are ideal place to unwind after a tiring day.
---
Oberoi Raj Vilas Resort, Jaipur
Location : Jaipur, Rajasthan
Special Features : Vila with private pool, royal tents, luxury tents, Kohinoor vila, spa center
Best time to visit : March to November
Nearby attractions : Hawa Mahal, City Palace, Jantar Mantar, Amer Fort and the local markets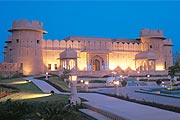 The Oberoi Raj Vilas is counted among the top Indian resorts and is located in the heritage city of Jaipur. The most distinct feature of this resort is its colonial infrastructure dating to times of the Rajput princes. The grand interiors reflect the effort of offering guests all contemporary facilities despite retaining its old charm. The backdrop of the elegantly furnished premier rooms reflects Rajputana décor. You can also choose stay at the royal tents or the villas that have an attached pool.
---
Angsana Oasis Spa & Resort, Bangalore
Location : Bangalore, Karnataka
Special Features : Spa center, multi cuisine restaurant and bar, 20 rooms and suites, weekend getaway packages
Best time to visit : Throughout the year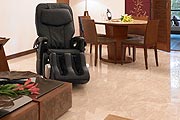 A lovely place to enjoy swimming and relax at the spa, the Angsana Oasis Spa and Resort is heaven for weekend vacationers. This luxury 5 star resort has 20 furnished rooms and the executive resort room serves modern business travelers. The rooms have a romantic setting and contemporary décor. The holistic services offered by this resort helps you in self-revitalization. A treat for your taste buds waits at Tangerine, multi cuisine restaurant, and the Mirage bar. They make occasion like anniversary and birthdays even more special with exclusive getaway packages.
---
Vanya Vilas Ranthambore
Location : Ranthambore, Rajasthan
Special Features : Minutes away from the Ranthambore National Park, tent accommodation, exquisite dining, safari tours and sightseeing facility
Best time to visit : March to November
Nearby attractions : Ranthambore National Park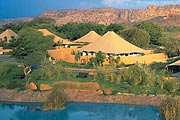 A wildlife resort set within the precincts of the Ranthambore National Park in the Sawai Madhopur district of Rajasthan. Operated by the Oberoi Hotels and Resorts, the Vanya Vilas is the ideal place to enjoy the wilderness of the jungle. Tents equipped with best modern amenities are the perfect retreat for all nature and wildlife lovers. You can also avail of spa, fitness center and the gymnasium during your leisure hours.
---