Rajasthan is known as the land of forts and palaces that are dotted in cities of Jaipur, Jaisalmer, Bikaner, Jodhpur and Udaipur. Mount Abu, Pushkar and Ajmer are acclaimed pilgrimage centers for the Hindus, Muslims and Jains in the country. India Profile offers online information on top 10 places to see in Rajasthan.
---
Jaipur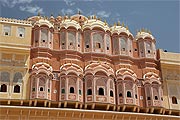 Sawai Jai Singh built the largest and capital city of Rajasthan, Jaipur, in the 18th century. Today, it is part of the Golden Triangle of India and is an important tourist destination. Referring to pink buildings and structures in the city, Jaipur is popular as the Pink City of India. Replete with several ancient era buildings, forts and palaces that reflect the Islamic and Rajputana architecture, Jaipur is a traveler's paradise. Developing shopping complexes, malls and markets are delight to shopaholics. The main attractions in and around Jaipur include Amer Fort and palace, City Palace and museum, Hawa Mahal, Jantar Mantar observatory and Jal Mahal. If you want to explore the glory of the bygone era, plan your stay with indiaprofile.com at the heritage hotels in Jaipur city.
---
Jaisalmer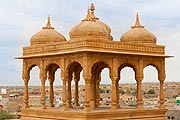 Popular as the Golden Fort City, Jaisalmer rose to prominence after the Bengali feature film, Sonar Kella was made by Satyajit Ray. The yellow-sandstone fort here became the point of tourism since then and thousands visit every year. It is another heritage city in Rajasthan and the Archaeological Survey of India now maintains it. The most important feature of Jaisalmer Fort is that there are around 450 families living inside the complex, unlike other forts in the state. Other places of tourist interest in Jaisalmer include Gadisar Lake, Jain Temple and other havelis. The Sam Sand dune is just 45 km from the main city and you can enjoy camel safari to the Thar Desert.
---
Bikaner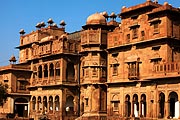 In north western part of Rajasthan is the desert city called Bikaner that is well known for its sweets and namkeens. Bikaner is well accessed by road from Jaisalmer and Udaipur. Junagarh Fort, the erstwhile residence of the royal family of Bikaner has a museum housed within it. Laxmi Niwas Palace, is another residential built in the Indo-Saracenic style of architecture. Presently, it is a heritage hotel maintained by Golden Triangle Fort and Palace. Gajner Palace is another heritage property that operates as a hotel. Karni Mata Temple is one of the oldest Hindu shrines in Rajasthan.
---
Jodhpur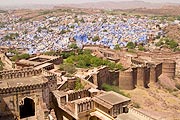 Jodhpur is popular as the Gateway to Thar and is a historic city established by Rao Jodha. It was the early capital of Marwar. The cultural of Jodhpur city revolves around palaces, forts, handicrafts and spice industry. The Mehrangarh Fort here dominates the city skyline and has the distinction of being the largest fort complex in the state. It is built on a 150 meter hill and offers stunning views of the surrounding area. Built in 1458, the fort underwent renovations and there is a lift installed now. Attractions within the fort complex include the Moti Mahal, Sheesh Mahal and Chamunda Mataji Temple. You can also visit Jaswant Thada, Umaid Bhawan Palace and Khejarla Fort within few kilometers from the city. Natural attractions around Jodhpur are Balsamand Lake and Kailana Lake.
---
Udaipur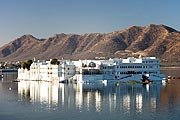 Udaipur is rightly called the City of Lakes and Palaces and is one of the popular places of visit in Rajasthan. Tourists throng Udaipur to explore its grand heritage and natural beauty. A tourists' favorite destination, Udaipur is often known as Kashmir of Rajasthan. Home to several lakes such as Fateh Sagar Lake, Lake Pichola and Swaroop Sagar Lake, this city has it own charm. Its top attractions besides the lakes are Udaipur City Palace, Saheliyon Ki Badi, Udaipur Solar Observatory, Nehru Garden, Ahar Museum and Doodh Talai. The City Palace is a huge complex with several things to explore such as Amar Vilas, Durbar Hall, Jagadish Temple, Manak Mahal and Badi Mahal.
---
Pushkar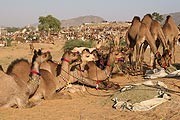 Pushkar is a sacred town mainly for the Hindus for its Brahma Temple. This town close to Ajmer city is also popular for its annual exhibition called the Pushkar Fair. Temples, ghats and lakes are other attractions of Pushkar. The fair takes place on the banks of Pushkar Lake. This lake has around 55 ghats where pilgrims take holy bath before heading to the Brahma Temple. The Brahma Temple here is one of the rarest shrines in the world that is dedicated to Lord Brahma. On Kartik Poornima or the full moon night prayers are special pujas are conducted at the temple. Other Hindu shrines here include Rangji Temple, Pap Mochini Temple and the Savitri Temple. Pushkar Mela or Pushkar Fair takes place from October-November and mainly revolves around cattle and camel trade.
---
Ajmer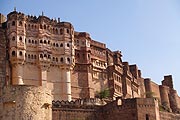 Ajmer is within 14 km of Pushkar town and is a major pilgrimage center for the Muslims. The Dargah of Khwaja Moinuddin Chisti, a sufi saint is situated here. With a backdrop of the Aravalli Hills, Ajmer is popular as a historic city as Mughal Emperor Akbar is believed to have at this Dargah. The Akbari Mosque is another sacred house of Muslim worship here besides the dargah. You can also visit Abdullah Khan's Tomb, Akbar's Palace and Museum and Ana Sagar.
---
Mount Abu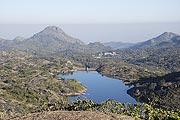 Mount Abu is Rajasthan's only hill station and a major pilgrimage site for the Jains in the country. Flanked by the Aravalli Hills, Mount Abu is at the Rajasthan-Gujarat border and is an important weekend getaway from Gujarat. Located in the Sirohi district and accessible via Abu Road that is the nearest railhead. The most popular destination at these hills is the Dilwara Temples. An example of outstanding architecture, Dilwara Temple comprise of 5 different structures carved of white marble. They are remarkable for their unique carvings and splendorous work of art. Prominent Hindu shrines are Dhar Devi Temple, Gaumukh and Shri Raghunathji Temple. Guru Sikhar is the highest peak of Mount Abu at 1722 meters. These temples were built from 11th-13th century. Nakki Lake is an ideal spot for boating and refreshment.
---
Ranthambore National Park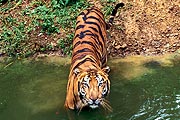 Around 11 km from Sawai Madhopur road, Ranthambore is the most popular wildlife sanctuary in the state famous for being a Tiger Reserve as well. It is around 130 km away from Jaipur and is a major destination for wildlife and nature lovers. The park is a natural habitat for exotic species of animals, birds and reptiles such as wild boar, tigers, leopards, sambar deer and black bucks. There are around 272 species of birds seen here. The Ranthambore National Park also offers jeep and elephant safari tours to explore the place better. Some of the other attractions within the park are Bakaula, Padam Talao and the Rajbagh Talao.
---
Bharatpur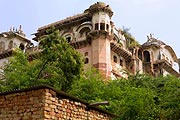 Bharatpur city of Rajasthan is famous for being home to a bird sanctuary that was earlier called the Keoladeo Bird Sanctuary. It is a habitat for a variety f bird species and mainly the Siberian crane. This place is closest to Agra, Uttar Pradesh and takes just around 2 hours by road. From Jaipur, one has to drive via the National Highway 11. The sanctuary here was developed by the maharaja of Bharatpur and was a hunting ground. The best time to visit is October-February. Other attractions of Bharatpur are Kasrra Durbar Palace, Diyalo Bangala Palace and Devghat.
---