Goa is a lover's paradise and best holiday destination for couples in India. Over the ages, Goa has attracted foreign travelers for its urban culture, seafood, beach parties, carnivals and the famous fenny. You cannot miss visiting the old towns and churches in Goa along with the beaches such as Calangute, Colva and Anjuna. India Profile offers online information on Top 10 places to see in Goa.
---
Chapora Fort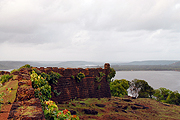 On the banks of Chapora River, this fort has an ancient history that dates even before the Portuguese arrived in Goan shore. It is among the top historical sites in the state built on a steep slope that remained a defensive base camp for the early rulers. There was once the church of St Anthony and now the site has only few barracks remaining. This site is close to Mapusa and easily accessible by hiring a car from here. This fort ruins is also in vicinity of the Anjuna Beach in northern Goa. The half laterite structure is reminiscent of the rich cultural history of Goa and Adil Shah, the ruler of Bijapur, commissioned Chapora Fort. In its initial years it acted as a watch tower and the Portuguese refurbished it in 1617, almost a century later. The area around Chapora Fort is also popular as Shahpura.
---
Calangute Beach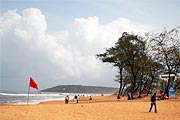 A small town in North Goa, Calangute is famous worldwide for its wonderful stretch of beach. If you have not visited this beach during your stay in Goa, you have missed sunbathing, adventure sports, seafood and beach parties all at a time. Calangute is a center of Goa Carnival every year and thousands of tourists and honeymoon couples visit during the carnival nights. The food fiesta, drinks and the DJ trance music will be a memorable experience for you. Swimming and water sports are day time activities. There are several hotels and world class resorts around Calangute Beach and the place is around 13 m drive from the capital city of Panjim.
---
Anjuna Beach
Anjuna's full moon parties, Wednesday market and scores of seafood restaurants are reasons why you should be here. A small village, Anjuna, shot to fame for its beautiful rocky beach. It is now a center of parties and food festival and ever bustling with tourists engaged in photography, sunbath and swimming. The flea market of Wednesday is particularly an attraction for the shopaholics. Things are not only cheap at this market, but they are varied and trendy. There is a range of electronic goods, jewelry goods and even motor bikes on sale. Attractions around Anjuna include Chapora Fort, St Antonia Chapel and Vagator Cove.
---
Panaji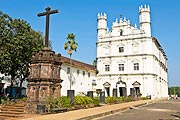 The capital of Goa, Panaji is the third largest metropolitan after Vasco Da Gama and city of Margao. This city borders the Mandovi River and features Portuguese era buildings, red tilled homes and cultural institutions. Panaji is a modern business hub and has a well-developed communication system. It is popular for being a major gateway to the state as the Dabolim airport of Goa is situated 35 km away. The nearest railhead is Karmali, around 10 km drive from Panaji. This city also remains well connected from Mangalore, Bangalore and Mumbai. Places of tourist interest in and around Panaji include Dona Paula Beach, Miramar Beach and Salim Ali Bird Sanctuary.
---
Margao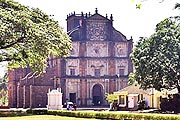 The administrative headquarters of southern Goa, Margao is popular as the Education City. Located along River Sal, it is among the oldest towns in the state. The large Portuguese style mansions and a number of suburban areas make Margao one of the most visited places in the country. Important locales around Margao include Gogol, Comba and Fatorda. Places of tourist interest and important city landmarks are Municipal Garden, Old Market, Holy Spirit Church and the Grace, As Christianity is predominant in the region, there are several churches here worth visiting and most reflect Portuguese architecture. Among the Hindu shrines are Hari Mandir and Maruti Mandir. The Margao City Hall is an important landmark here.
---
Basilica of Bom Jesus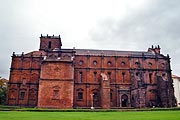 A UNESCO World Heritage Site, this basilica in Old Goa houses the remains of St Francis Xavier. Old Goa was the capital city during Portuguese colonialism. The church draws the attention of global travelers for its baroque architectural style. Constructed in 1605, the body of St Francis Xavier, founder of Society of Jesus is kept here. It is an important place for Christians and among the oldest basilica's in the state. The elaborate interior of this church has several paintings reflecting the life of the saint. Designed by Italian architect Foggini, the church was completed in 10 years and thousands visit during the time of Liturgical Feast to commemorate the death anniversary of St Francis Xavier.
---
Colva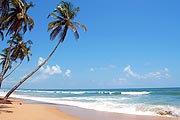 South Goa's beach town, Colva is around 8 km from the city of Margao and the beach here is the main tourist attraction. The 24 km shoreline around Colva is one of world's longest beaches. Colva Beach remains crowded especially during the weekends. The peak season is October-November. There are plenty of hotels, shacks and seafood restaurants around this beach and the swimming areas are demarcated. Though there are no vibrant beach parties taking place at night, Colva is a lover's paradise mostly for its tranquility.
---
Salim Ali Bird Sanctuary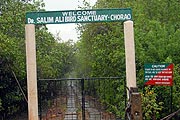 Situated along River Mandovi, Salim Ali Bird Sanctuary is located on the Charao Island. Salim Ali was a renowned ornithologist and this park is named after him. The main attraction of Salim Ali sanctuary is the thick mangrove forest. This bird park is also home to around 400 species of birds both local and migratory and the place is best accessible from Panaji. For entry to this sanctuary, permission of the Forest Department of Panaji is required. The best time to visit is March-October. Though with the onset of winters several Himalayan birds are seen here.
---
Museum of Goa Daman and Diu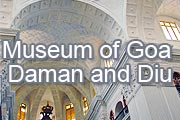 Located in Panaji, the Museum of Goa Daman and Diu houses important documents and archeological references from the time when Goa, Daman and Diu were Union Territories. It is an important store house of Goa's early history and you will find collection of coins, ships and inscriptions mainly of the Portuguese era. This museum remain open 6 days a week (Monday-Saturday).
---
Candolim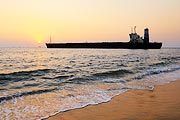 On the south of Calangute Beach, Candolim is a town in northern side of Goa. The Candolim Beach is the top attraction here and gained prominence during the Anti-Portuguse revolt in 1787. The beauty of the beach here is captivating and it is a jogger's paradise as well. You will escape the madding crowd usually seen in the other Goa beaches and instead the quiet charm of the place. Aguada Fort is close to both Bardez and Candolim Beach.
---