If you are wondering why choose a homestay for an accommodation then the reasons are- a homestay offers you luxuries of a hotel, stylish set up of a resort and the comforts of a home. Most of them are located close to the natural attractions such as the backwaters of Kerala and the magnificent Himalayas and are quite affordable. These are affordable more in cases where you have a long holiday planned up and you don't want to splurge on accommodation. Know more about these splendid accommodations and book from among the top 10 homestays in India to get the best experience ever.?
Bel Home Homestay
Location : Coorg
Best time to visit : October to June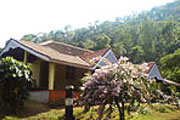 Located close to the beautiful Kotebetta Peak, this homestay is a favourite among nature lovers for its natural surroundings. Away from the hustle and bustle of city life, Bel Home Homestay is a simple set up with a cottage, two rooms and no television.
Special Features : Lets you unwind in naturally beautiful place with chirping birds and sound of gushing river, which is like music to ears.
Activities : Explore the Bellarimotte Estate with orange, coffee, cardamom and pepper plantations. Also take part in trekking activities, river rafting and bird watching in the valley.
---
Jai Vilas Homestay
Location : Jaipur
Best time to visit : October to March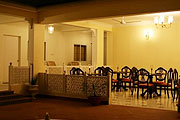 Jai Vilas is a beautiful bungalow accommodation located in Babu Nagar area of Jaipur. The place has its well-preserved old world charm and is tastefully designed with modern amenities.
Special Features : A thrilling golf game at the prestigious Rambagh Golf Club awaits you when you are there at Jai Vilas Homestay.
Activities : Guests can enjoy activities such as trips around Pink City, a visit to Chowki Dhani and a golf game.
---
Royal Mist Homestay
Location : Munnar
Best time to visit : August to March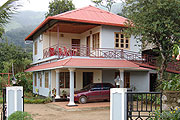 Royal Mist Homestay is a modern set up with the necessary amenities. It belongs to a close-knit family in Munnar. Rooms for the guests are at the top floor, which also has a terrace overlooking the valley and the hills beyond that.
Special Features : A walking trail that leads you to the tea estate and the spot from where you can view the enchanting sunset in the valley.
Activities : There are a number of activities to be a part of. Some of these include- fishing, trekking, attending cooking classes, trips to tribal areas and national parks, rock-climbing, exploring the tea estates and museums, getting ayurvedic treatments and boating to Kundale and Mattupetty dams.
---
Devra Homestay
Location : Udaipur
Best time to visit : September to March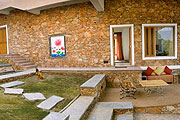 Devra homestay is located close to Udaipur city. It is a colonial set up that resembles a farmhouse. The accommodation is surrounded by farmlands and hills. The guest rooms at Devra homestay overlook the beautiful Monsoon Palace.
Special Features : You can indulge in organic living. Here meals are prepared with home grown organic vegetables.
Activities : Staying at Devra homestay you will love participating in sightseeing trips in and around Udaipur, gardening, painting, trekking, walking, visiting temples and other such interesting activities.
---
Vembanad House Homestay
Location : Alleppey
Best time to visit : August to September/ February to March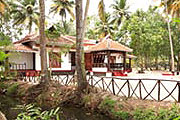 Staying in the "God's own country" is in itself a wonderful experience. Choosing the Vembanad House Homestay in Alleppey further adds to the enjoyment. The homestay is located near the Vembanad Lake surrounding the Kerala backwaters. It is an ancient ancestral accommodation, which has undergone transformations to suit the modern style of living. The old world charm however, is still to be seen in form of artefacts and wooden furniture.
Special Features : Walking trips to the neighboring Vembanad Lake and the paddy fields is something special offered by the accommodation.
Activities : Guests will enjoy participating in activities such as fishing on the lake, shopping, getting ayurvedic massages, taking traditional dance and yoga lessons and cooking classes and boat trips to Kerala backwaters.
---
The Homestead Homestay
Location : Corbett
Best time to visit: December to March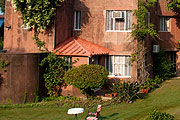 The luxurious interiors and awe inspiring exteriors of The Homestead may bring a doubt of it being a resort. This homestay is located close to the picturesque landscape and mysterious woods of Corbett.
Special Features : There are Turkish baths and spa to rejuvenate your senses during your stay at The Homestead homestay. The accommodation also has a swimming pool and a gymnasium.
Activities : Activities to enjoy when at The Homestead are- day trips to the famous Corbett National Park, camping, elephant rides, fishing, milking the cows, star spotting with the telescope, bonfires and nature walks.
---
Capella Homestay
Location : Goa
Best time to visit : November to March
Capella Homestay is a typical Goan accommodation with traditional décor and features like wooden swing and a stone pond. It is located in Arpora village, which is surrounded by woods and hills.
Special Features : There is a huge collection of books for wildlife enthusiasts and nature lovers for guests at Capella Homestay.
Activities : Activities such as bird watching, fishing, watching the snake catchers at work, shopping at Ingo's Night Market and relaxing at the nearby Candolim, Baga and Calangute beaches can be enjoyed by guests while staying at this Goan homestay.
---
The Cottage Homestay
Location : Jeolikot
Best time to visit : April to June/ September to November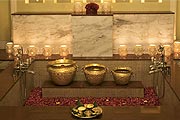 Located on the foothills of the magnificent Himalayas, The Cottage Homestay enjoys a splendid surrounding. The accommodation is located high above the summer resort, Nainital. The place has an ancient charm. It also has traces of past about famous men like Swami Vivekanand preserved in its books.
Special Features : The walls of the homestay are decorated with a collection of art pieces and paintings by eminent painters and visitors. Art lovers would love checking out these which have different themes.
Activities : You will love activities such as trekking across the valley, walking through the orchards and bird watching in the area.
---
Fort Rampura
Location : Rampura
Best time to visit : October till March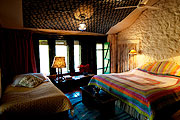 Staying at Fort Rampura is a different experience all-together. It is a 700 year ancient fort, which has traces of the rich historical past of Rampura; a village in Uttar Pradesh. The huge fort has just three rooms to be occupied. Rest of the fort is decorated with traditional rugs, designer furniture and antiques of yesteryears.
Special Features : Special arrangements are made for recreation of the guests staying at Fort Rampura. The hosts arrange for target practice sessions, fishing, boating, bullock cart rides, star gazing and tractor rides in the village.
Activities : You can participate in activities such as picnic near the River Pahuj, visiting village festivals and fairs, boating on Yamuna River, pottery making in the nearby village, oil massages and walking trips to the village fields and temples.
---
Glenora Homestay
Location : MuWayanadmbai
Best time to visit : August to May
If you are wondering what it is like to stay in a tree house, this is the homestay to choose for. Located in Wayanad district in Kerala, it is one of the best places to choose so as to stay close to nature. The homestay is surrounded by coffee plantations and spice gardens all around.
Special Features : Great views of the plantations and sunrise from the balconies of the cottage.
Activities : Coffee estate trips, mountain treks and cooking lessons are some of the activities you can be a part of.
---