Planning a trip to one of your favorite hill stations in India and still wondering where to stay? Nothing but the best is what you deserve for a memorable vacation in places like Shimla, Ooty, Gangtok and Kodaikanal. A wonderful accommodation adds to the total experience of a perfect outing. Pick from the top 10 hill station hotels in India and customize your much needed break.
The Oberoi Cecil
Location : Shimla
Specialty : The Oberoi Cecil offers colonial styled rooms to choose from. It also has a spacious billiards room for recreation.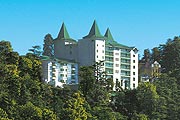 Shimla is one of the most beautiful hill stations in India. Staying at The Oberoi Cecil during a visit to this exotic hill station is wonderful experience. This is a heritage hotel in Shimla, which is more than 100 years old. The accommodation has the old colonial charm with wooden furniture, wooden floors and fireplace creating a picture of the colonial lifestyle. The Oberoi Cecil has been through renovations adding modern facilities like air condition, LCD television and other features for more luxury. Other notable facilities in this hill station hotel include - heated swimming pool and children's activity area.
---
Savoy Hotel
Location : Ooty
Specialty : There are colonial style cottages, which are surrounded by multi-colored flowerbeds. The hotel has well maintained lawns for bonfire dinners and other activities.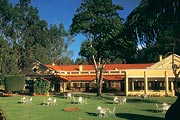 Savoy Hotel belongs to the Taj Hotels Resorts and Palaces group. It is a luxury accommodation, which is located on a hill.The hotel offers comfort with its state-of-the-art facilities. There are colonial styled cottages to choose from in the hotel. These rooms are replete with amenities such as- international dialling connectivity, color television with satellite connection, and fireplace.
---
Royal Plaza Hotel
Location : Gangtok
Specialty : Casino Sikkim is a special addition to the hotel. Guests can enjoy playing this game of luck.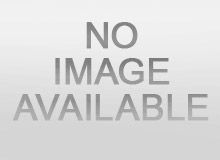 Royal Plaza Hotel enjoys a perfect location amidst the lush green valleys and majestic mountains. The hotel belongs to the Sarovar Hotels & Resorts group. This is a luxury accommodation in Gangtok. Staying at Royal Plaza Hotel you will get exotic views of the paddy fields, snow-capped mountains and forests surrounding it. The rooms are tastefully designed. The hotel has other facilities such as banquet hall for events, multi-cuisine restaurant and a bar. There are gala dinners to be enjoyed too.
---
Hotel Kodaikanal International
Location : Kodaikanal
Specialty : The hotel has a children's activity area called the Cindrella Park and also offers Ayurvedic massages and Yoga sessions for complete rejuvenation.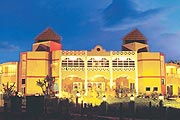 Hotel Kodaikanal International belongs to the group of ESTEJI Hotels Private Limited. It is located close to the Kodai Hills. The hotel is known for its excellent services, which includes in-room services and friendly staff to assist you round the clock. Facilities that add to the experience of staying at Hotel Kodaikanal International are- banquet, conference, multi-cuisine restaurant called The Orchard and well stocked bar known as The Oasis and health club.
---
The LaLit Grand Palace
Location : Srinagar
Specialty : The LaLit Palace offers excellent spa massages and treatments at Rejuve.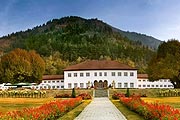 Located in the heavenly Kashmir valley, The LaLit Grand Palace is luxury heritage accommodation. Initially, it was the abode of the Maharajas. The palatial hotel is twin storied and overlooks a well maintained lawn and the beautiful Dal Lake. The Zabarwan mountain range surrounds the hotel adding to its beauty. The hotel won the "Best Hotel in Heritage Category" in 2008-2009. There are 112 guest rooms to choose from. It has a multi-cuisine restaurant called Chinar Gardens, The Dal Bar and Darbar Hall, South Hall and North Hall for conference, banquets and meetings.
---
Hotel Ambassador Resort
Location : Manali
Specialty : Hotel Ambassador Resort has a discotheque with well-known DJ playing the latest tracks and an Ayurvedic Spa Centre called 'Tva'.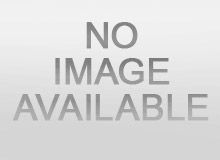 Hotel Ambassador Resort is one of the best first class hotels to choose in Manali. Set amidst the charming hilly surroundings of the valley, the hotel is a perfect choice for people who love to stay close to nature. The hotel has well furnished rooms with both basic and modern facilities like attached bathrooms and color television with satellite connection. They have business facilities with three halls and lawns for official parties and seminars. It has great dining facilities too with a number of restaurants serving yummy delights round the clock. At Café Jardin, Jibber, Barbeque and D' Jong guests can enjoy different kinds of delectable cuisines like Tibetan , Chinese or a lavish barbecue around the bonfire.
---
Palanpur Palace
Location : Mount Abu
Specialty : The hotel offers 2 royal suites to have a regal experience of residing in this heritage hotel.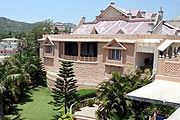 Palanpur Palace is the perfect accommodation to choose if you enjoy staying amidst the nature as it is surrounded by the hills. From the hotel you will see the majestic Aravalli Ranges, a sparkling lake and panoramic views of the city. The hotel was initially a palace built by Nawab Sher Mohammad Khan, which was later renovated by his son Nawab Taley Mohammad Khan to convert it into a summer palace. It has facilities like 29 inch color television with satellite connection, pool-side café, multi-cuisine restaurant and a bar to be enjoyed during the stay.
---
The Royal Heritage
Location : Shillong
Specialty : The Royal Heritage has a therapy center, which offers herbal and holistic treatments to guests for a rejuvenating experience.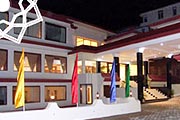 Located in a beautiful area of Shillong, The Royal Heritage is more than a good choice. This heritage accommodation was a palace, which was created under the reign of Maharaja Bir Bikram Manikya Deb Burman. Facilities offered by this royal accommodation include airport transfers, direct dial facilities, multi-cuisine restaurant, and lounge and breakfast services.
---
The Windmere Hotel
Location : Darjeeling
Specialty : The Windmere Hotel has The Ada Villa for those who would love to experience the old English colonial charm and The Snuggery with contemporary features.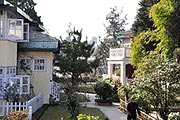 The Windmere Hotel is a heritage hotel in Darjeeling. It was awarded for its excellence as a luxury accommodation at the time of first National Awards Ceremony. It is placed on the "Observatory Hill" and has excellent facilities like a music room, a boutique with a collection of special gift items and conference facilities for business travellers in Darjeeling.
---
Hotel Softel Plaza
Location : Dehradun
Specialty : Hotel Softel Plaza has a state-of-the-art fitness centre, which is open round the clock.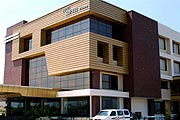 Hotel Softel Plaza is a luxury accommodation with 36 stylish rooms to choose from. It is centrally located in Dehradun and is surrounded by lush greenery. Other facilities offered by this hill station hotel are- centrally air-conditioned rooms, multi-cuisine restaurant, cyber café, a garden and lawn for social and corporate parties and spacious parking area.
---