Offering luxury accommodation, special amenities, recreation such as spa and swimming pool, four star hotels in India serve both holidaymakers and business tourists. Several palace turned hotels also have 4 star ratings and are unique places to stay. They reflect the charm of the bygone era while rooms are renovated to meet modern standards. Such hotels also rank for their hospitality, services and ambience. India Profile offers online information on Top 10 four star hotels in India.
Ivy Studio, Pune
Location : Viman Nagar Road, Pune
Special Features : The Lagoona swimming pool, Stamina - the gym, Wi Fi connectivity in rooms, conference and banquet facility, Jacuzzi baths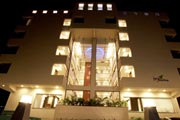 Ivy Studios is a 4 star rated airport hotel just 8 km away from the railway station. The excellent location makes it popular among business travelers arriving by air to Pune. It features extraordinary room decors and state-of-the-art infrastructure proving its guests with luxurious amenities. You have the option to choose from the 39 well designed rooms divided into silver, gold and platinum category. The Sunset Lounge is an ideal place to unwind and you savor multi cuisine specialties at the Pebbles restaurant. The three conference halls here are technologically updated business center. Among the premier recreational amenities are gymnasium and the swimming pool.
---
Aamod Resort, Shimla
Location : Shoghi, Shimla
Special Features : Cottage rooms, spa, The Colonial restaurant and bar, picnics, nature walks, bird watching, private dinner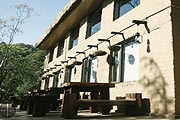 Aamod at Shoghi is a beautiful resort tucked away in the hills of Shimla. Surrounded by oak and pine forests, eco tourism makes this resort a sought after one. Enjoying the perfect blend of nature and modern day comforts, cottage rooms rejuvenate your senses and you live in perfect harmony with nature. You can go on an evening walk, sit out for tea breaks and relax under the sun. The Colonial restaurant and bar specializes in local cuisine such as subz biryani and spaghetti bolognaise. Bonfires and dance performances will make your evenings memorable. Spa is another place for rejuvenation and accommodation is stylish and elegant.
---
Alsisar Haveli, Jaipur
Location : Sansar Chandra Road
Special Features : 45 deluxe rooms, restaurant, bar, sightseeing tours, swimming pool, folk dance performance on request, bar, parking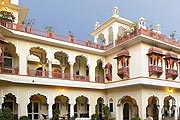 Maintained by the Alsisar Hotels group in India, Alsisar Haveli is a 4 star heritage hotel in the Pink City of India. It is an ideal venue for royal weddings and elite banquets. The architecture of the mansion reflects a regal splendor and offer glimpses of the Rajput heritage. This magnificent haveli has 45 renovated rooms that meet the modern day hotel standards yet retaining the ethnic charm. Interiors have fine Rajput period furniture and Rajasthani antiques. Bathrooms are equipped with bath tubs and guests have access to a small library and reading hall, swimming pool, restaurant and bar. The hotel staffs also facilitate elephant safari at the Amer Fort, heritage walk, cultural programs on request and sightseeing.
---
Apple Country Resort, Manali
Location : Log Huts area, Manali
Special Features : Apple Country discotheque, 39 rooms and suites, spa, bar, restuarant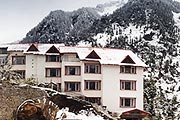 Another acclaimed 4 star resort and hotel in Himachal Pradesh, Apple Country is situated in the hill station of Manali. You can enjoy the grandeur of nature along with a luxurious living. Surrounded by a beautiful landscape and apple orchard, this hotel features 39 elegantly decorated rooms and suites, innovate dining hall and rejuvenation amenities such as spa, bar and discotheque. You can actually have a vibrant nightlife within the hotel premises at the Apple Country discotheque!
---
Avalon Courtyard, New Delhi
Location : Sultanpur, New Delhi
Special Features : Service apartments and suites, swimming pool, Wellness Tree Gym and Spa, Wishing Tree Café, health club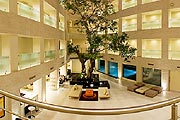 Located at Sultanpur, Avalon Courtyard is a premier 4 star hotel In New Delhi known for its world class apartments, suites, the Wishing Tree Café and a health club among its specialty guest services. The residence suites have mini bar, refrigerator and bath with showers and Jacuzzi. This hotel offers you a rare experience of luxury stay, style and business facilities. The conference and meeting hall has projectors, internet and Wi Fi connectivity. The Wellness Tree Gym and Spa offers carious rejuvenation services and massages for absolute relaxation of guests. The indoor swimming pool is an excellent place to unwind if you are not venturing out.
---
Ayurtheeram Ayurvedic Resort, Kumarakom
Location : Kumarakom, Kerala
Special Features : Ayurveda spa, massages, therapies, yoga and meditation, badminton court, swimming pool, restaurant, play area for kids, table tennis, angling, water games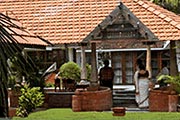 The simple healing touch of Ayurveda gives Ayurtheeram Ayurvedic Resort a special place among the other 4 star hotels in Kumarakom. The 17 acres of greenery along the ever-fascinating backwater chain makes your stay here a memorable one. You cannot help indulging in some rejuvenation and holistic therapies, do yoga in the mornings and spend the day on the banks of the Kumarakom backwaters. The herbal garden is where the medicinal herbs are grown and other facilities include diet guide, houseboat trips and relaxing by the swimming pool. Dining is also a delight here that is accompanied by cultural programs at night.
---
Bassi Fort Palace, Chittorgarh
Location : Chittorgarh, Rajasthan
Special Features : Folk dance in the evening, traditional welcome, Rajasthani cuisine, jeep safari, picnic, special functions and theme parties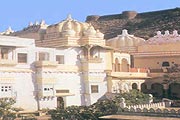 Bassi Fort Palace is a heritage hotel owned by the WelcomHeritage group of hotels in India. Situated in the heritage town of Chittorgarh, Rajasthan, the palace was built in the 16th century by the rulers of Chundawat clan. It overlooks the historical Chittorgarh Fort and offers the opulence of a luxury hotel. Set amidst a picturesque environment, it is one of the best hotels in the Mewar region. Landscaped garden, grand dining hall, palatial rooms and a traditional welcome greets you at this palace hotel. It is a sought after venue for weddings and banquets.
---
Baywatch Resort, Goa
Location : Sernabatim Beach, Goa
Special Features : Deluxe rooms and suites, spa and massages services, swimming pool, pool side bar, restaurant, beach sports, water games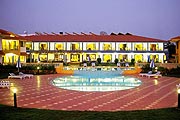 Make this holiday in Goa unique with your stay at the Baywatch Resort. With a 4 star rating, this resort is known for its world class services, lovely ambience and varied entertainment opportunities. The best destination for honeymoon couples and nature lovers, Baywatch Resort has gained prominence for its excellent location besides extraordinary amenities. A wellness retreat is what describes this resort best as you can avail of spa and massages services, swimming pool, pool side bar and fitness center. Thrilling theme nights is something you cannot miss here. Exotic seafood, games and beach sports, what more for a memorable vacation!
---
Oberoi Maidens
Location : Zakir Hussain Marg, New Delhi
Special Features : Club bar, private dining, rooms and suites, meeting and conference rooms, Travertino and Threesixtyone restaurants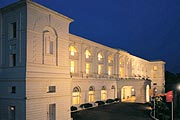 Unmatched standard of hospitality and services, Oberoi Maidens is a 4 star business hotel in New Delhi. It is minutes away from Pragati Maidan and half an hour drive from the international airport making it a prominent hotel for business persons. It is one of the elegant hotels in the capital city that offers a rooftop restaurant, modern conference venue, spa services and well equipped rooms and suites. Personal butler service and mini bar is unique to the executive suites here. Spa, fitness center and swimming pool are the recreational facilities you will enjoy in your visit.
---
The Trident, Jaipur
Location : Amber Fort Road, Jaipur
Special Features : Jal Mahal restaurant, 132 guest rooms, Kids Club, swimming pool, fitness center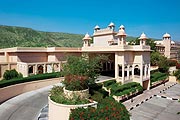 Your kids have some special things to do at the Trident Jaipur! There is a Kids Club here that includes outdoor and indoor games, library and play room supervised by a manager. Trident Jaipur offers you a luxury stay with 4 star amenities at its 132 guest rooms and suites. They feature a contemporary setting with ethnic décor. You can treat yourself at the Jal Mahal, Mansagar and Verandah restaurants. Business persons can avail of secretarial services at the separate boardrooms, conference halls and meeting venues. Health club or the fitness center is open for 24 hours. Swimming is permitted between 7am and 6pm.