The five star hotels offer you a luxurious stay with a blend in heritage and modern facilities. Hotels in this category excel with their room amenities such as internet, Wi Fi, work area, balcony, shower baths and toiletries. The suites have tea or coffee maker, mini bar, in-room dining and personal butler service. For recreation, guests can avail of swimming pool, bar, lounge, spa, massage services and outdoor sports. India Profile offers online information on Top 10 Five star hotels in India, their location and special features.
Location : Mumbai, Maharashtra
Special Features : 560 rooms, 44 suites, Jiva spa, private dining, conference hall, restaurants, bar, lounge and cafeteria, health club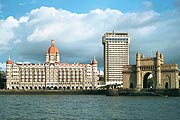 Owned by the Taj Hotels Resorts and Palaces group, Taj Mahal Palace in Mumbai is acclaimed as the top 5 star hotel in the country. It is an important city landmark as well and overlooks the Arabian Sea. It is minutes away from the Gateway of India and has played hosts to a number of foreign dignitaries over the years. It is also popular among business travelers for its world class meeting and conference venue, besides hospitality, ambience and services. The hotel has 560 rooms and suites, Jiva Spa, 6 restaurants, 2 bars, pastry shop and lounge. It has won the Times Food Guide awards in 2010 and 2011.
---
Location : Udaipur, Rajasthan
Special Features : Premium rooms, suites, Oberoi Spa, 3 restuarants, bar, private dining, meeting and conference hall, fitness center, swimming pool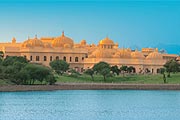 The Oberoi Hotels and Resorts operate the Oberoi Udaivilas in Udaipur, Rajasthan. It is one of the premier luxury hotels in the country capturing the splendor of the bygone era. Situated on the banks of Lake Pichola, the hotel resembles the grand palaces of Rajasthan. The interiors have ethnic embellishment but the hotel offers all modern comforts to its guests. Well decorated rooms and suites, international cuisine, luxurious spa, meeting and conference facility, make staying at the Oberoi Udaivilas a memorable one.
---
Location : Hyderabad, Andhra Pradesh
Special Features : Executive club rooms, suites, Dakshin restaurant, Kebabs and Kurries, Dublin bar, Kaya Kalp spa, swimming pool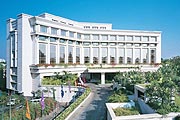 ITC Kakatiya is the best 5 star business hotel in Hyderabad known for its lavish accommodation in 188 rooms and suites, hospitality, delectable range of cuisine and the Kaya Kalp spa. While the grandeur of this hotel is praiseworthy, guests also prefer its personalized services, ambience, state-of-the-art infrastructure and recreational amenities. The area around the swimming pool is ideal to unwind. This luxury hotel is home to 3 in-house restaurants serving Mughlai, Hyderabadi, North West Frontier and Chinese cuisine. You can also avail of the finest range of beverages and wine. Hyder Mahal is the grand ballroom at the premises that hosts all special occasions and banquets accommodating up to 500 guests.
---
Location : Mabor Beach, Goa
Special Features : 206 rooms, suites, villas, fitness center, spa, Wi Fi and internet in rooms, conference and banquet venue, 3 golf courses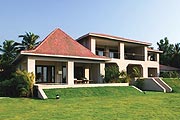 75 acres of idyllic setting, world class infrastructure, modern facilities and lip smacking cuisine make the Leela Goa count as one of the top 5 star hotels in India. Reflecting the Portuguese heritage and situated on the precincts of the Mabor Beach, Leela Goa is a fantastic place to spend your vacation and hold business meets. 206 rooms including suites and villas offer all comforts of a beach resort. The rooms are well equipped with bath with Jacuzzi, telephone, internet, Wi Fi, personalized room service and windows facing the sea. You can also stroll down the nearby fishing village and have a glimpse of the Goan culture. What makes the hotel a favorite of business travelers is the beachside conference and banquet venue, secretarial services, catering and updated equipments at the meeting rooms.
---
Location : Bangalore, Karnataka
Special Features : 9 acres of garden, deluxe rooms and suites, DVD and television in rooms, spa, swimming pool, parking, pick and drop, banquets and meetings.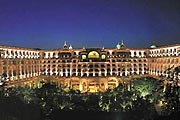 The Trident Gurgaon is another luxury business hotel in the central business district of Haryana. Set amidst 7 acres of landscaped garden and overlooking a pool, accommodation at this hotel includes 129 rooms and 6 suites for executive guests. It is rated among the best business hotels in the National Capital Region and awarded Asia's Leading Hotel by the World Travel Awards in 2011. Meeting and banquet facilities at the Trident Gurgaon include a boardroom, class room and theater. They have projectors, television, internet and computer. In-room business amenities are telephone with STD and ISD, internet, Wi Fi connectivity and room service.
---
Location : Agra, Uttar Pradesh
Special Features : Belleve and Esphahan restaurants, bar, lounge, private dining services, Oberoi spa, fitness center, meeting room, premier rooms with balcony, luxury suites.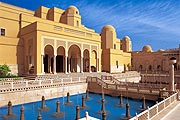 The Oberoi Amarvilas is another 5 star hotel from the Oberoi Hotels and Resorts group. The hotel has particularly gained prominence for its clear view of the Taj Mahal, a World Heritage Site in Agra. Taj Mahal is just half a kilometer from the hotel. You will be left stunned by the glorious sight of the hotel during the sunset as the red hue is reflected on its walls. The majestic rooms, suites, restaurants and bar all remind you of the architectural beauty during the Mughal period. Your stay is complemented by dining at the Belleve and Esphahan restaurants.
---
Location : Kolkata, West Bengal
Special Features : 229 rooms and suites, Taj Spa and salon, Grill by the Pool, Sonargaon restaurant, bar, lounge, pastry shop, meeting and conference hall, 60 minutes from Kolkata airport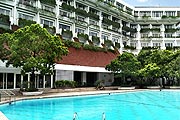 Situated just minutes away from Kolkata's prominent landmark Victoria Memorial, Taj Bengal is a unique 5 star hotel from the Taj group. The airport is an hour's drive from this hotel. Besides enjoying a convenient location, Taj Bengal Kolkata is known for its design and architecture, the work of famous architect Bom Fox. The main hall and reception area feature priceless art and façade. There are 229 rooms, all centrally air conditioned and suites with palatial décor. Taj Spa and salon offers rejuvenation therapies and massages to make your vacation a perfectly relaxing one. You will also get a choice of Bengali cuisine served at Sonargaon and grill specialties at the Grill by the Pool.
---
Location : Hyderabad, Andhra Pradesh
Special Features : Adaa restaurant, Taj spa and salon, Hookah Lounge, pool side bar, 60 rooms and suites, royal bath by personal butler.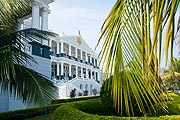 Falaknuma Palace is one of the distinguished havelis that served as the royal residence for the Nizam of Hyderabad. Presently owned by Taj group in India, there are 60 furnished rooms at this palace and grand suites. Rare furniture antiques and chandeliers form the main room décor. The lawns and corridors feature art works and collections brought from Japan and China by the Nizam rulers. With your stay here, you will be taken back to the golden era of the Nizams, yet can avail of all contemporary facility such as spa, conference and banquet hall, pool, world class restaurants and bars. The ethnic style restaurant Adaa retains the traditional charm and you can savor the Hyderabadi Dum Biryani, a signature dish here.
---
Location : Gurgaon, Haryana
Special Features : 202 guest rooms, Piano Bar, Threesixtyone restaurant, Oberoi Patisserie, Oberoi spa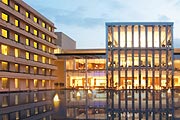 Acclaimed as one of country's best 5 star business hotels, Oberoi Gurgaon is the ultimate place for tourists who want to have a splurge during their vacation. It flaunts spacious rooms, equipped business center, spa room, health club and fine dining experience. There are 202 guest rooms here with contemporary suites. For a fine gourmet treat, stop over at Threesixtyone, Amaranta and the Piano Bar. You can savor pastries at the retail arcade of Oberoi Patisserie and Delicatessen.
---
Location : Bangalore, Karnataka
Special Features : 20 acres of garden, 90 rooms, 26 suites, Masala Klub, Blue Ginger, Blue Bar, Mynt, private dining, round the clock business center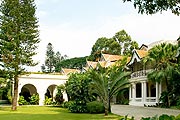 20 acres of greenery greets you at the Taj West End, another 5 star hotel in Bangalore. Far away from the ever bustling city, this hotel is an ideal weekend getaway with a 24-hour business house, secretarial service, spa and salon. It is also an ideal venue for weddings and corporate ceremonies. With a blend of history, heritage and modern concepts, Taj west End has 90 rooms with 26 suites. The Tata Suite is the most expensive of them all.