The economy hotels are popular among budget travelers and backpackers who do not wish to spend lavishly on accommodation but enjoy a comfortable stay. Economy or the budget hotels are cheap, have low priced AC or non-AC rooms, dining facility and personalized services. Those without dining facility serve special breakfast on request or you can avail of restaurants near the hotel. India Profile offers online information on Top 10 economy hotels in India and their specialties.
Ginger Hotel Ahmedabad
Location : Himalaya Mall, Ahmedabad
Special Features : 99 rooms, standard and deluxe rooms, gymnasium, net zone, laundry service, conference room, restaurant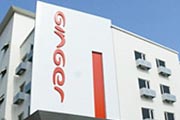 Ginger Hotel in Ahmedabad is acclaimed for its convenient location. It is situated just behind the Himalaya Mall. It is heaven for backpackers and budget tourists who want to spend less on accommodation but enjoy a comfortable stay. The hotel's location is also of importance to shopaholics. You can easily stay out late night and get back from the mall without hiring any transport. The shopping district of Sarkhej Gandhinagar is just a 5 minutes drive from the hotel. It is one of the top economy hotels in country and offers distinct amenities such as television, attached baths, room service in the standard rooms. The deluxe rooms have mini fridge and tea or coffee maker as well. There is cyber zone to access internet and gym for fitness.
---
Ginger East Delhi
Location : New Delhi
Special Features : 108 rooms, cyber zone, parking, laundry, restaurant, conference room and in-room dining facility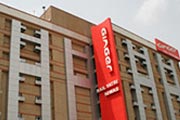 Ginger New Delhi is one of the best budget hotels in the capital city serving a range of business travelers and leisure tourists. Ginger hotel in Delhi is just 7 km drive from Kashmere Gate and minutes away from the New Delhi Railway Station. It ideally serves tourists looking for a cheap hotel with easy access to the railway station. It is conveniently located in Karol Bagh and well known for its moderate tariffs. There is an updated meeting and conference room, dining facility and gymnasium. The 108 rooms at this hotel are equipped with television, attached baths, telephone and room service. You can also avail rented car services, laundry and paid parking during your stay.
---
Woodlands Hotel
Location : JP Nagar, Bangalore
Special Features : 25 air conditioned rooms, party hall, restaurants, moderate tariff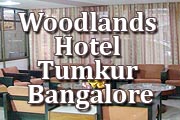 Just minutes away from Bangalore Central, Woodlands Hotel is situated in JP Nagar. The retail major Big Bazaar is its important landmark. With state-of-the-art infrastructure and modern amenities, Woodlands Hotel is far from being over expensive. Tourists can opt for rooms here according to their budget. There are 25 rooms in single and double categories. There is one multi cuisine restaurant and one vegetarian restaurant. There is also a party and banquet hall here.
---
Hotel Luciya International, Bangalore
Location : OTC Road, Bangalore
Special Features : Well designed standard, deluxe and air conditioned rooms, restaurant, conference hall
Hotel Luciya International is situated both in the cities of Bangalore and Mysore in Karnataka. In Bangalore, the hotel is located opposite Sharada Talkies and close to Bangalore Central Railway Station. It is popular among commercial visitors as well as tourists who are on a tight budget. They enjoy optimum modern day benefits such as in-room basics of attached baths, hot and cold running water, intercom telephone, television and room service. Rooms here are in standard, deluxe and deluxe air conditioned categories. The rooms are well decorated and furnished with wardrobes and safes. Other amenities include dining services at the in-house restaurant. The meeting hall has special arrangement of projectors and computers on request and can accommodate up to 100 guests.
---
Hotel Diplomat Mumbai
Location : Apollo Bunder
Special Features : 50 rooms- standard, deluxe, superior and suite, laundry, restaurant, travel assistance.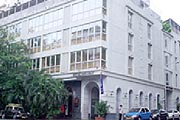 Hotel Diplomat is situated in South Mumbai and one of the leading budget hotels in the metropolitan. It offers 3 star facilities and rooms here are available at a moderate tariff. It is close to the Gateway of India and the convenient location makes it a favorite amongst travelers. The Mumbai International Airport is around 28 km from this hotel and 6 km away drive is the Mumbai Central Railway Station. Important shopping districts are also 2-3 kilometers drive from Hotel Diplomat. The hotel also has pick and drop facility on request from the airport. There are 50 standard, superior, deluxe and suite rooms to choose from. Standard rooms are the low cost ones and ideal for those in the city only for few hours. Suite rooms are elegantly furnished and updated with tea or coffee maker, mini refrigerator and DVD player on request.
---
Hotel Indraprastha
Location : Karol Bagh, New Delhi
Special Features : 20 well designed rooms, cheap food, terrace for parties, travel assistance, reservation facility, close to shopping districts of Karol Bagh and Connaught Place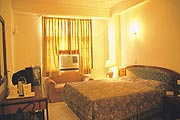 Hotel Indraprastha in New Delhi is an acclaimed budget hotel offering a comfortable stay to guests without having to spend a fortune. There are 20 rooms at Hotel Indraprastha and they are furnished and air conditioned. Though they are not highly priced, rooms here are spacious and suites the taste of modern travelers. There is internet and Wi Fi facility in the hotel premises and guest services include dining, room service, laundry, air and train tickets, travel guide and currency exchange. The terrace is an ideal venue for bar-be-que parties.
---
Hotel Chand Palace Delhi
Location : Paharganj, New Delhi
Special Features : 45 rooms, attached baths, in-room dining (only breakfast), laundry, parking and reservation assistance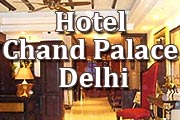 Hotel Chand Palace is situated in the neighborhood of Paharganj with proximity to the New Delhi Railway Station. Affordability is what defines this hotel the best. There are 45 rooms at this hotel, equipped with television, intercom telephone, room service and attached baths. There is no in-house restaurant here but you can order for in-room breakfast. There are also several cheap hotels and restaurants in Paharganj where you can have both vegetarian and non-vegetarian meals. Other services at Hotel Chand Palace are parking, laundry, mineral water and doctor on call.
---
Majestic Park Hotel
Location : Mylapore Chennai
Special Features : 21 rooms, restaurant, bar and pub, meeting facility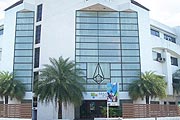 Majestic Park Hotel is well known for its range of budget hotels serving tourists arriving mostly at the Chennai central station. This railway station is just 10 minutes drive from the hotel. It is situated on the Santhome High Road where you will find a number of restaurants, malls and shopping outlets around the hotel. The Marina Beach is also 100 meters away from this economy hotel in Chennai. There are 21 rooms at Majestic Park that features attached bath with mirrors, television with cable connection and telephone. The Sea View Deluxe Rooms have higher tariffs. This hotel is also ideal for a corporate traveler looking for business assistance such as meeting and conference rooms. Majestic Park also has a restaurant serving food between 7am-11pm. There is also a pub cum bar here for you to unwind and party.
---
Hotel Sea Face, Kovalam
Location : Kovalam, Thiruvananthapuram
Special Features : 21 rooms, sea facing restaurant, 1 deluxe suite, sightseeing tours and option for beach sports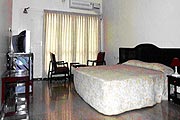 Enjoying an idyllic setting along the Arabian Sea, Hotel Sea Face impresses travelers with its lovely ambience and undulating surroundings. The moderate room tariffs, the sun decks and delectable food variety make Sea Face a sought after budget hotel in Kovalam. Hotel Sea Face is located on Have Beach and the best place for honeymoon couples to spend their beach holiday. Guests enjoy excellent services, accommodation at 20 standards and deluxe rooms and dining at the sea-facing restaurant.
---
The Central Court, Hyderabad
Location : Lakdi ka Pul, Hyderabad
Special Features : Club rooms, junior suites, internet, parking, restaurants and bar, conference venues and meeting halls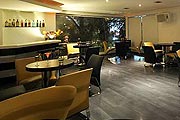 The Central Court, Hyderabad is a business budget hotel in the Hi-tech city of Hyderabad in Andhra Pradesh. This 76-room hotel features round the clock business services, travel counter and valet parking. You can order for cake and pastries on request and there is internet and Wi Fi connection in the hotel premises. On special occasions, you can also order for flower decorations. Central Court also offers a varied choice of food at its in-house restaurants. Accommodation comprises of superior rooms and club suites. Central Court is rated as a deluxe budget hotel by travelers.
---