The popular business class hotels in India have strategic locations, are easily accessible from the nearest business districts, have well equipped conference rooms and separate boardrooms. Those having business on mind also look for upgraded business services such as secretarial assistance, fax, internet, pick and drop and even dining arrangements. India Profile offers online information on the Top 10 business hotels in India.
The Leela Palace, Bangalore
Location : Bangalore, Karnataka
Special Features : 254 guest rooms, Wi Fi and internet, STD and ISD telephone, dining, Grand Ballroom, Royal Ballroom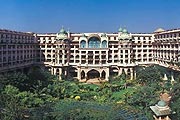 Built in the style of palaces of Mysore, Leela Palace hotel in Bangalore is India's top destination for business travelers. It features 254 guest rooms with attached balcony and the suites have separate work area. Business essentials at the rooms include Wi Fi and internet, STD and ISD telephone, tea or coffee maker and laptop on request. For meetings and events, there is also the Grand Ballroom, Royal Ballroom, Turrent Boardroom and the Diya Room. They have a capacity to accommodate up to 600 guests.
---
ITC Maurya, New Delhi
Location : Diplomatic Enclave, New Delhi
Special Features : Golf Bar, Bukhara restaurant, 440 rooms and 3 suites, Kaya Kalp spa, business center, currency exchange facility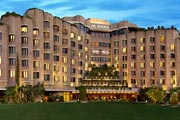 The main advantage for commercial guests at Maurya Sheraton is its strategic location. This 5 star business hotel in New Delhi is just 14 km from the New Delhi International Airport and positioned in Diplomatic Enclave. With 440 well appointed rooms and 29 suites, Maurya New Delhi has been serving business leaders for over 25 years now. Besides being equipped with experienced staff and technologically updated seminar rooms, ITC Maurya also has the Kaya Kalp spa, restaurants and the Golf Bar.
---
The Oberoi, New Delhi
Location : Zakir Hussain Marg, New Delhi
Special Features : Wi Fi enabled work stations, close to Delhi Golf Club, 30 minutes from airport, 2 boardrooms, deluxe rooms and suites, 24-hour business center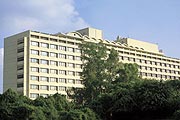 Minutes from the Delhi Golf Club, Oberoi New Delhi hosts business persons, ambassadors and other VIP guests. Corporate hospitality and world class services is the specialty of this hotel. The deluxe rooms and suites feature a blend of contemporary décor and traditional sophistication. It has a full fledged 24-hour business center with butler and secretarial service. There are two 6-seater conference hall and 2 boardrooms. There are also Wi Fi enabled work stations adjacent to the reception. The hotel has won accolades for being the Best Business Hotel in 2011 by the Conde Nast Traveler.
---
The Taj Mahal Palace, Mumbai
Location : Apollo Bunder Mumbai
Special Features : 32 km drive from the airport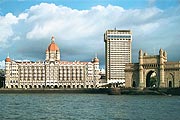 Facing the Gateway of India and overlooking the vast Arabian Sea, Taj Mahal hotel in Mumbai is a city landmark and one of the popular business hotels in the country. It has played host to eminent dignitaries, ambassadors and discerning business travelers for over a decade now. 560 rooms and 44 well designed suites include the famous club rooms and Prsidential Suite. The 24-hour business center comprises executive rooms, private offices, secretarial services, Wi Fi, internet, library and work stations.
---
Trident Hilton Gurgaon
Location : Gurgaon, Haryana
Special Features : 129 rooms and 6 suites, 30 minutes from New Delhi International airport, boardroom, class room, seating capacity for 160 guests in the conference room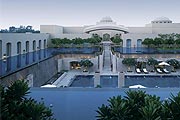 The Trident Gurgaon is another luxury business hotel in the central business district of Haryana. Set amidst 7 acres of landscaped garden and overlooking a pool, accommodation at this hotel includes 129 rooms and 6 suites for executive guests. It is rated among the best business hotels in the National Capital Region and awarded Asia's Leading Hotel by the World Travel Awards in 2011. Meeting and banquet facilities at the Trident Gurgaon include a boardroom, class room and theater. They have projectors, television, internet and computer. In-room business amenities are telephone with STD and ISD, internet, Wi Fi connectivity and room service.
---
Oberoi Udaivilas, Udaipur
Location : Hardasji Ki Magri, Udaipur, Rajasthan
Special Features : 55 minutes drive from Jaipur airport, Oberoi Spa, swimming pool, gym, deluxe rooms and suites, 6 meeting rooms and separate boardrooms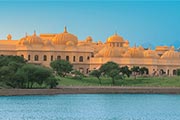 An infrastructure that reflects the richness of the Mewar region of Rajasthan, sophisticated palatial rooms and contemporary business amenities make Oberoi Udaivilas one of the best hotels in the country. There are premier lake view rooms and suites serving executive guests, entrepreneurs and business persons. The 6 technologically updated meeting rooms with state-of-the-art infrastructure helps conduct conference and seminars. International cuisine, luxurious spa, swimming pool and fountain garden make it a heaven for all leisure travelers as well.
---
Taj West End
Location : Race Course Road Bangalore, Karnataka
Special Features : boardroom, conference hall, secretarial services, modern and updated rooms, work area in suites, dining, banquet venues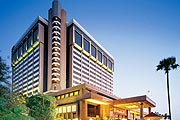 Situated adjacent to the Bangalore Golf Club, Taj West End is a heritage business hotel in the Garden City of India. Its premise has a 125 year old Banyan tree and is a lovely place to unwind. For business travelers, the rooms are updated with video conferencing facility, telephone, internet, Wi Fi connection and dining provision. There is a separate work area in the suites. The duty manager is at your service round the clock. The boardroom has seating capacity for 12 people. Efficiency in business related services makes this hotel a favorite among commercial tourists.
---
Leela Kempinski Mumbai
Location : Sahar, Andheri Mumbai
Special Features : ball room, 5 meeting rooms, 391 rooms, 3 suites, 1 presidential suite, spa, restaurant and bar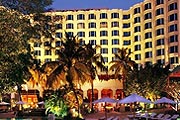 Organizing meetings, conferences and weddings are an integral part of guest facilities at Leela Kempinski Mumbai. The magnificent ball room reflects timeless luxury and contemporary facilities. Situated in the ground level of the hotel, the ball room has a capacity for 700 guests. In the first floor is Nidhi, an exclusive meeting room. Nitya features plush interiors and is a small boardroom. Diya, Maya and Kamal are the other meeting and seminar venues at Leela Kempinski Mumbai. There are 391 rooms and 3 executive suites besides 1 presidential suite offering accommodation.
---
Taj Coromandel
Location : Mahatma Gandhi Road Chennai, Tamil Nadu
Special Features : Taj Club Floor and Lounge, 24-hour business center, secretarial service, fax, courier, laptop on request, 212 rooms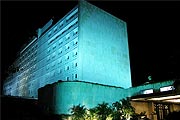 Taj Coromandel is both a business and leisure hotel entertaining tourists from all over the world. With fine dining options, wine bar and 212 luxuriously appointed rooms, Taj Coromandel is rated among the Leading Hotels of the World. Among its premier guests has been Bill Clinton, the former US President. Guests on a commercial purpose have access to the Taj Club Floor and Lounge and the 24-hour business center here. Video conferencing, secretarial service, fax, courier, laptop on request ensure smooth business networking.
---
Park Sheraton, Chennai
Location : Chennai, Tamil Nadu
Special Features : 281 rooms, dining, 8 meeting rooms, secretarial services, currency exchange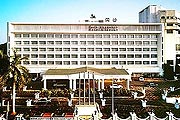 Also known as the Sheraton Park Hotel and Towers in Chennai, well equipped business center facilitates the stay of all commercial visitors in the city. It is located in the heart of the metropolis and has 281 guest rooms with television, internet, telephone and audio-visual equipments on request. Guests have access to 8 meeting rooms organizing high profile meet ups and even private parties.
---