To enjoy the perfect tropical ambience, delicious seafood and backwater cruises, check out into the best beachside hotels situated in Kerala, Goa, Lakshadweep and Andaman and Nicobar Islands. There will be more reasons for you to enjoy the sea now! India Profile offers online information on Top 10 Beach Hotels in India, their location and special features.
Leela Palace Goa
Location : Mobor, Goa
Special Features : Mediterranean style of architecture, rooms and suites, 3 golf courses, swimming pool, restaurants, bar, sightseeing and water sports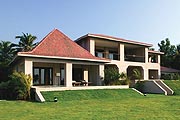 Among the best beach resorts in the country, Leela Palace Goa is a luxury hotel set amidst 75 acres of coconut and palm groves. The lapping waters on the shore and the perfect tropical ambience along with luxury accommodation make it one of the best places to stay. There are 206 exquisitely designed rooms and suites at Leela Goa and Jamavar is their signature on-site restaurant where you can enjoy delectable range of Mediterranean and Indian cuisine. The Yali Lounge is the best place to sip your mocktail and enjoy the evening breeze. There is also special arrangement for candle light dinners, water sports, sightseeing and Mandovi cruises.
---
Radisson White Sands Resort Goa
Location : Varca Beach Goa
Special Features : 154 guest rooms and suites, 6 restaurants, bar and lounge, swimming pool and mini theater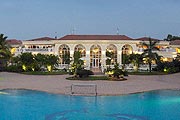 This 4 star beach hotel in India is around 30 minutes away from Dabolim Airport and has pick and drop services for guests. This beach resort in Goa is just 5 minutes away from the Varca Beach and heaven to tourists and honeymoon couples. It features 154 deluxe rooms and suites equipped with luxury facilities such as bar, refrigerator and LCD television. There is also opportunity for dining at Sake, Waterfalls Café and Tangerine restaurants specializing in Indian and western cuisine. Guests at this hotel can unwind at the sun deck, enjoy billiards, or relax by the swimming pool. Radisson White Sands Resort has facility for meeting, conference and a min-theater.
---
Leela Kovalam
Location : Kovalam, Thriuvananthapuram
Special Features : 182 rooms and suites, library, fitness center, swimming pool, Ayurveda wellness spa, meeting and conference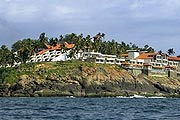 Leela Kempinski Kovalam is a 182-room accommodation, considered to be one of the popular beachside hotels in India. This 5 star hotel borders the two Kovalam beaches and is an excellent place to relax and rejuvenate yourself. The Ayurveda spa at Leela Kovalam is famed for its holistic treatments and Ayurveda massages. The exclusive Sea View wing has rooms offering clear views of the Arabian Sea. The hotel is perched on a rough cliff that gives it the look of a mansion. The Terrace restaurant offers spectacular views and ideal place to enjoy the sea breeze. The Sky Bar is an open-dining set up where you can enjoy exotic cocktails and meal while seeing the sunset.
---
Fisherman's Cove Chennai
Location : Cavelong Beach
Special Features : deluxe rooms, cottages and villas, fitness center, tennis court, beauty salon, 3 in-house restaurants, bar and lounge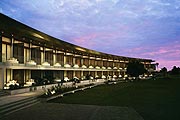 The ancient Dutch Fort has been turned into one of the finest beach hotels in India. Fisherman's Cove in Chennai is maintained by the Taj Palace and Hotels group and rated among the best 5 star hotels in the country. There are plush cottages, deluxe rooms and villas here for accommodation. They are all equipped with modern amenities and offer a comfortable stay and views of the Bay of Bengal. The 28-cottages here are sought after among honeymoon couples. They have separate sit-out area with dining, spa, and bar facility. There are 3 in-house restaurants and a bar here. Opportunities for private dining are also available. Leisure opportunities at Vivanta by Taj Fisherman's Cove include swimming pool, fitness center, tennis court, beauty salon and sightseeing to Mahabalipuram.
---
Fort Aguada Beach Resort Goa
Location : Aguada- Sinquerim Beach, Goa
Special Features : 130 rooms and suites, restaurant, bar, lounge, gymnasium, Jacuzzi bath, sauna, beauty parlor and personalized service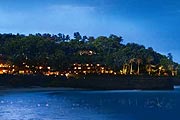 Fort Aguada was an erstwhile Portuguese Fort built in the 18th century on the shores of Arabian Sea. Today, it is a first class hotel and counted among the best in Goa. The landscape around the hotel is beautiful and tranquil with only the noise of the sea. The 130 rooms at Aguada Beach Resort are equipped with attached baths, Jacuzzi, sauna, telephone, LCD television, DVD player, mini bar and refrigerator. Guest here enjoys personalized services, swimming pool, spa, beauty parlor and water sports facility. You can plan a gala wedding, banquet, corporate meet up or conference at Fort Aguada. Taj group of hotels in India owns it.
---
Park Hyatt Goa
Location : Arossim Beach, Goa
Special Features : 120 rooms, of internet, Wi Fi connectivity, daily newspaper service, restaurants, bar, party lounge, spa and massage center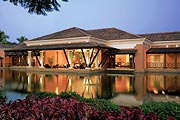 Park Hyatt Goa evokes the ideal Mediterranean atmosphere and the essence of living in a traditional Goan village. The Hyatt group of hotels in India operates it. Tourists rejuvenate themselves at the spa and massage center here while they choose to read a book amidst the tranquility of the coconut groves. The deluxe 120-bedrooms here are a combination of contemporary design, facilities and amenities. You can avail of internet, Wi Fi connectivity, daily newspaper service, attached bath with showers, wake up call and in-room dining. This hotel enjoys great accessibility that is one reason why tourists choose to stay here. It is a15 km drive from the airport and around 14 km away from the Margao Railway Station.
---
Toshali Sands Puri
Location : Puri, Orissa
Special Features : executive villas and cottages, banquet hall, conference room, Ayurveda spa center, tennis court, play area for children, fitness center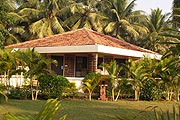 Orissa is another prominent beach destination in Indian and Puri is a wonderful retreat. Toshali Sands Resort in Puri is one of the finest 4 star resorts featuring 109 air conditioned rooms including cottages and private beach villas. This resort has a private beach for sunbathing, tennis court, play area for children, fitness center and 30 acres of greenery. Toshali Sands also has spa center, Ayurveda massage facility, ethnic restaurant, banquet hall, parking space and boating opportunities. Apart from leisure trips here, you can also plan for business events and banquets here.
---
Marari Beach Resort
Location : Mararikulam, Kerala
Special Features : 52 cottages and villas, Ayurveda spa center, tranquil beach, sunbathing area, restaurant and bar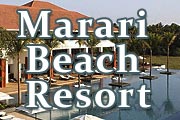 Marari Beach Resort is a tropical hotel well known for its ethnic architecture, authentic Kerala food and exclusive range of heritage cottages. The 52 cottages and villas at the Marari Beach Resort offer absolute privacy to honeymoon couples and acclaimed for their comforts and style. This spa resort rejuvenates you with Ayurveda therapies and sauna bath. The resort is close to the backwater town of Alleppey and known for its accessibility from Kottayam, Kochi and Trivandrum. Marari is originally a quaint fishermen's village where you can see experience traditional Kerala.
---
Agatti Beach Island Resort
Location : Agatti Island, Lakshadweep
Special Features : 10 beach bungalows, conference room for up to 40 guests, Ayurveda center, buffet dining, kayaking, scuba diving and lagoon cruising facilities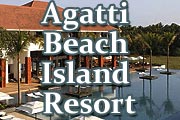 Agatti Island is the tourism hub on the Lakshadweep. The lush landscape, blue lagoons, turquoise sea and adventure sports will make your stay at this island a memorable experience. Situated close to the Agatti Island airport is the Agatti Beach Island Resort where you will enjoy the sun, sea and the seafood. Water sports, swimming, angling and boat rides will be an integral part of your hotel stay. Also popular for its ambience and world-class facilities, well designed beach bungalows, Agatti Island Resort is heacven to travelers.
---
Palm Grove Eco Resort
Location : Port Blair town, Andaman
Special Features : Tree house, fish pond, Bacchus bar, open-restaurant, bamboo bar counter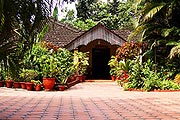 The concept of eco-friendly construction and location makes Palm Grove Eco Resort a unique one. It is located 2 km away from the Carbyn's Cove Beach in Port Blair, Andaman. The resort has won accolades for promoting eco tourism on the island. The airport is 4 km from the hotel. The rooms are elegantly furnished and heavily surrounded with trees. It is a blissful place to stay especially for nature lovers. There is a fish pond in the hotel premises, restaurant, bar and tree house.
---