Ayurveda is a natural healing practice that is integral to the culture of India, being at least 5000 years old. Several resorts and luxury hotels in the country have adopted this healing system for offering stress relief and rejuvenation services to its guests. Beauty care, body care, spa, facial and several kinds of massages are part of the holistic services that tourists enjoy at the top Ayurveda resorts in India. The other kind of Ayurveda therapy is usually medical treatment that is a long-term process with the use of medicinal herbs and plants. In India, Kerala has emerged as a popular medical tourism center and heaven for international tourists for its many Ayurveda clinics and spa resorts. The backwater towns of Kumarakom, Alleppey, Trivandrum and Kozhikode are where most of these Ayurveda spa resorts are situated.
India Profile offers information on the top 10 Ayurveda resorts in India, their location and special treatments.
Somatheeram Ayurvedic Health Resort
Location : Chowara Beach, Trivandrum Kerala
Best time to visit : Monsoon season
Special Features : Soma Ayurveda Beauty Clinic, Ayurveda Academy, body care, yoga and meditation classes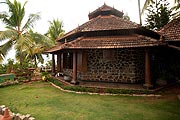 Somatheeram has the distinction of being the world's first Ayurveda resort that is located in the southern part of Kovalam. The authentic Ayurveda rejuvenation center is set amidst 15 acres of landscape and specializes in therapies, massages, Ayurveda diet and herbal medicinal treatments. This resort in Kerala follows the tradition and ancient practice of Ayurveda and offers several packages of beauty care, holistic services, and occasional yoga classes for up to 15 days. Treatments are undertaken for blood pressure control, rheumatism, cholesterol and paralysis. The resort premises house an Ayurveda Academy and Soma Ayurveda Beauty Clinic for special consultation.
---
Ananda in the Himalayas
Location : Tehri Garhwal, Uttarakhand
Special Features : Spa, ayurveda experience, rasayana, yoga, meditation, revitalizing massages, healing and beauty therapies and consultation for diet
Best time to visit : Throughout the year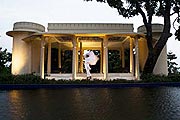 Surrounded by Sal forest and overlooking the meandering Ganges, Ananda in the Himalayas is an Ayurveda spa resort located in Uttarakhand. It is close to the holy towns of Haridwar and Rishikesh and an ultimate place for rejuvenation. It is well known for its healing therapies and wellness regimes of traditional Ayurveda. While the surroundings are enchanting, the ayurvedic experience here includes rasayana, massages and specialized diet. Treatment packages include abhyanga, shirodhara, tan lepa, tarapana and kati vasti.
---
Kairali Ayurvedic Health Resort
Location : Palakkad, Kerala
Special Features : Panchakarma therapy, spa, general massage, beauty care, hair treatments, eye care and holistic packages for summer only
Best time to visit : March-October (summer and monsoon)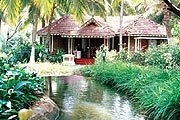 The goal is to revitalize your body and soul with the healing touches of Ayurveda. Set amidst a green landscape of 50 acres, Kairali Ayurveda home offers you a relaxing and rejuvenating holiday in God's Own Country. Apart from medicinal massages and ayurvedic spa, you also enjoy treatments such as Panchakarma conducted by expert therapists. Panchakarma is process of using medicated oils and herbs for regaining the youthful senses and getting free of a wrinkled skin. The Panchakarma diet is usually vegetarian.
---
Devaaya - The Ayurveda Resort
Location : Divar Island, Goa
Special Features : Naturopathy, Panchakarma, yoga, diet planning, holistic program
Best time to visit : March-September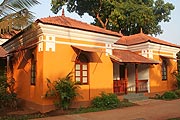 Tranquil coconut groves bordering the Mandovi River, the Devaaya Ayurveda and Nature Cure Center is located on the Divar Island of Goa. It is a perfect place for healing and rejuvenation during a vacation. Ayurvedic therapies and holistic program are the specialties of this health resort in the country. Ayurveda physician determines the diagnosis required for joint pains, asthma and other bodily disorders. Music classes, yoga, diet planning and counseling are combined with the treatments. Panchakarma, wellness regimes and natural oil massages are part of the naturopathy sessions here.
---
Beach and Lake Ayurvedic Resort
Location : Pozhikkara Beach, Trivandrum, Kerala
Special Features : Ayurvedic cooking classes, yoga, meditation, slimming and anti-aging program, medicated steam bath
Best time to visit : October to April, June and July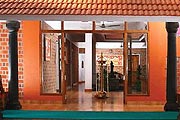 The winner of Travelers' Choice awards 2011, the Beach and Lake Ayurvedic Resort is situated on the Pozhikkara Beach of Trivandrum. Besides its scenic charm, the various therapeutic programs rejuvenate tourists. The treatment packages vary from 30 minutes to 30 days tenure. They include healthcare, slimming, anti-aging, beauty, specialized treatments, medicated steam bath and also Ayurvedic cooking classes and diet.
---
Sarovaram Ayurvedic Resort
Location : Kollam, Kerala
Special Features : Ayurveda care, pain relief programs, herbal treatments, head massage, face massage, sirovasti, nasyam, ayurvedic facial.
Best time to visit : July-September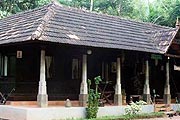 On the banks of Lake Ashtamudi, Sarovaram Ayurvedic Resort features Kerala style Ayurveda cottages and offers therapies with ayurvedic ingredients and herbs grown in their own farm. Guests here enjoy a tropical environment, healthy surroundings and memorable Ayurveda care. Effective treatments for pain relief last from 7 days to 3 weeks.
---
Vythiri Resort
Location : Wayanad, Kerala
Special Features : Vythiri spa, aromatherapy, facials, massages, scrubs, body baths, Ayurveda treatment packages
Best time to visit : Throughout the year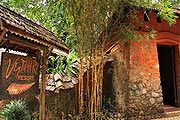 Vythiri Resort in Wayanad is one of the top Ayurveda resorts in India known for its enchanting surroundings, jungle set up and eco-friendly environment. Attractive Ayurveda treatment packages start from 2 nights and the Vythiri spa menu is an amazing range of facials, massages, scrubs, body baths and wraps. The Ayurveda center housed within the resort has healing programs that include warm showers and herbal scrubs. The best practices of Ayurveda such as the aromatherapy are used. This resort has won the International Quality Crown Award.
---
Agastya Ayurveda Garden, Trivandrum
Location : Southern Trivandrum
Special Features : Ayurveda seminar, herbal remedies, treatments to strengthen the immune system, marma massage, yoga and Panchakarma techniques
Best time to visit : April to July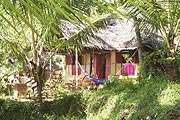 Interesting activities besides Ayurveda massage and treatments make your stay at the Agastya Ayurveda Garden in Trivandrum a memorable experience. You can enjoy the ambiance of the naturally set bungalows, swimming, outdoor body massages, sun bath and even attend an Ayurveda seminar in its premises. Experienced staffs conduct Ayurveda treatments and rejuvenation therapies to enhance your immune system and revitalize your senses. Situated by the sea, you enjoy enchanting views, relax in the botanical garden and enjoy fresh food prepared from farm grown vegetables. The surrounding beauty is a stress buster.
---
Kumarakom Lake Resort
Location : Kumarakom, Kerala
Special Features : Lavanya, beauty clinic, facial massages, papaya facial, orange facila, and anti-aging program
Best time to visit : July-September (monsoon)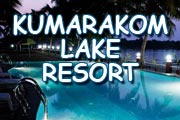 A luxury resort on the banks of the Vembanad Lake, Kumarakom Lake Resort offers a wide range of Ayurveda packages with offer for specialized treatments and rejuvenation therapies. Ayurmana is the ayurvedic center here that provides world class services such as abhyangam or the general massage, thakradhara, siro vasthi and steam bath with a minimum duration of 45 minutes. Lavanya is one of the popular facial treatments at the beauty clinic in this resort.
---
Ayurvedagram
Location : Whitefield, Bangalore
Special Features : yoga, pranayam, meditation, Panchakarma, weight reduction, treatment of lifestyle diseases, beauty care and pain care
Best time to visit : Throughout the year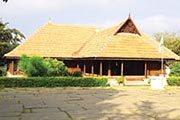 A heritage Ayurveda center offering relaxing therapies and regimes based on the traditional branch of medicine, Ayurveda. The look of the resort is that of an 18th century Kerala bungalow. Set amidst 7 acres of greenery, Ayurvedagram features a package of yoga, pranayam, meditation and Ayurveda treatments under a complete health care routine. Panchakarma, weight reduction and treatment of lifestyle related diseases are its specialty. It is tucked away from the city of Bangalore and is emerging as a prominent weekend getaway.
---