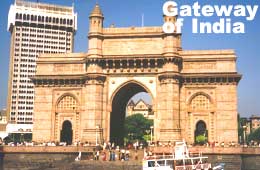 The Gateway of India was built to commemorate the visit of the King George V and Queen Mary to Mumbai in 1911 AD. The foundation stone was laid on 31st March 1911 AD. The splendid gateway was designed by George Wittet and his design was sanctioned in August 1911 AD. It is built in the Indo-saracenic style integrating local style of architecture also and adoptingfrom the Muslims of Gujarat. Between 1915 AD and 1919 AD, the work proceeded on reclamations at Apollo Pier for the land on which the gateway and the new sea wall would be built. The foundations were completed in 1920.
The gateway was built of yellow kharodi basalt and reiforced concrete. The cost of the construction of the gateway came to about Rupes 21,0000, which was given mainly by the government. The approach road was never built due to scarcity of funds and the gateway now stands at an angle to the road leading up to it. The whole seaport front was realigned so that it comes in line with designed promenade, which would sweep down to the middle of the town. The height of the central dome is 48 ft in diameter and rises 83 ft above the ground at its highest point. The has four turets and decorated with intricate lattice work carved into the yellow basalt stone.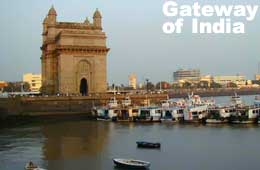 The construction of the gateway was completed in 1924 AD and it was opened on December 4, 1924 AD by the Viceroy, Earl of Reading.
When the British rule ended in 1947, this colonial symbol also became a sort of a memorial. The last British troop that left India, First Battalion of the Somerset Light Infantry, passed through the Gateway of India on 28 February 1948.
Today this symbol of colonialism has got Indianised and draws a lot of local tourists and citizens. Behind the arch are the steps leading down to the water. The Gateway of India was starting point for the tourists who come to Mumbai. It is one of the finest example of colonial architectural heritage in India.