Mahim Nature Park
In the heart of Bombay is Mahim Creek where bird and marine life thrives in its creeks and estuaries. Mangroves hold sway over large tracts of saline marsh sheltering myriad forms of life holding the soil together.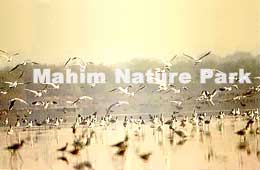 To preserve its natural beauty and estuarine ecosystem, the Mahim Nature Park has been se up. This area of 450 acres is being taken on as a challenge to transform it to a green lung of Bombay. But there is more - an Environmental Education Center takes you on a nature trail to show you the intricate relationship between the five elements - sun, soil, water and air. The Eco Trail along the 'Bhoomi Path' takes you through the various land and water habitats explaining the life patterns in different environments.
The 'Web of Life' trail along the 'Srushti Path' unfolds the entire food chain from grasses, insects to frogs, rats, reptiles, birds etc. The wooded area, the 'Aranya' along the 'Upasna Path' takes you along the wooded areas where chirping birds conduct a musical concert for you. Finally for concentrated bird watching there is the 'Jal Vihang Tarang Path' also known as the Marine Trail. This is for bird lovers where one can spot different species of birds in nooks and crannies along waterways on a raft at high tide. Finally you can complete your day at the medicinal patch at the tree cell. Here you will find remedies for coughs and colds and can buy saplings for a song and also receive expert advice from the 'tree squad'.
Melghat Tiger Reserve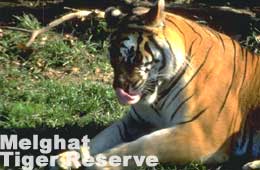 In the picturesque southern range of the Satpuras nestling in the tehsil of Amravati district is Melghat Tiger Reserve. Thanks to conservation efforts, amidst teak and bamboo groves you will find the protected tiger roaming around freely. If you are lucky you can shoot - only with a camera of course - sloth bear, hyena, wild dog, gaur, sambar, nilgai, barking deer, four-horned antelope and wild boar. And as for bird lovers, get ready to identify 113 species. Apart from all this there is also something for nature lovers - a spectacular variety of plant life. If you are game, get ready to leave for an exciting Vidharba jungle safari organized by MTDC, which takes you through Navegaon, Nagzira and Ramtak.
Getting There
The nearest railhead is Amravati (100 km) on the Central Railway but Badnera is a more convenient railhead. State Transport buses ply regularly from Amravati and Nagpur.
Borivili - A Park for All Seasons
Few visitors to the busy metropolis of Bombay are aware of the fact that just within its borders lies a virgin forest waiting to be explored. Just 104 square kilometers from Bombay, Borivili National Park offers a pleasant change from the humdrum life of the metropolis.
It is park for all seasons. In summer the forest is enfolded in a riot of colors - gulmohur, flame- of the forest and flowering silk cotton trees engulf the whole area and during the monsoons the forest is a verdant paradise - a carpet of green with streams tumbling over boulder-strewn water courses. This is an ideal time for birdwatchers and nature lovers.
A mini train will take you through the recreational area of the park, which also has a memorial of Mahatma Gandhi, a lion safari park, a deer park and gardens. It winds through a picturesque route, over bridges, through tunnels and along a lotus-studded lake on the Dahisar River where there are boating facilities. The park is the perfect place for picnics and there is a special picnic area with stalls selling the famous bhel-puri and pani-puri that Bombay is well known for. Also well worth a visit is the Aarey Milk Colony and Film City situated within the area of the park.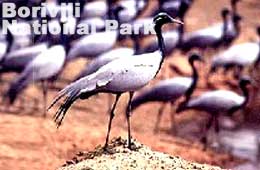 Getting There
By Rail: Borivili is a forty minute train ride from Church gate Station in South Bombay. On Sundays and public holidays, a regular bus service plies between Borivili station and the Kanheri Caves passing through the recreational area. Taxis are also available.
By Road: Borivili is accessible by road. Depending on the traffic, the trip could take around 75 minutes from Church gate driving along the Western Express Highway.
Accommodation
MTDC provides rent-a-tent facilities for overnight stays.
Karnala Bird Sanctuary
Karnala is the highpoint to a weekend - an ideal spot for an all day picnic with its close proximity to Bombay. Karnala is also a birdwatcher's paradise and MTDC has rent-a-tent facilities so you can bird watch at leisure. Spot sunbirds, drongoes, orioles, babblers and the occasional male paradise flycatcher with its unusual silvery-white tail and colorful local bird species can all be sighted. The best time is between November and February. The sanctuary is also home to troops of monkeys and herds of deer. You may even be rewarded with a glimpse of a panther if you are lucky!
Karnala is dominated by a fort, which was originally used by the Marathas for its strategic location. It affords a magnificent view of the countryside for miles around. During the monsoons a walk up a winding path to the pinnacle is especially rewarding as the path is wreathed with flowers and wisps of cloud and mist and on a clear day one can sight the Bombay coastline barely 30 kilometers away.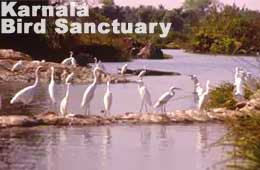 Getting There
By Road: Buses ply regularly between Bombay and Panvel and taxis and auto rickshaws easily cover the 12-kilometre distance from Panvel.
By Rail: There are many trains from Bombay's V.T. Station (Central Line) that stop at Panvel from where auto rickshaws and taxis are available.
Accommodation
MTDC has rent-a-tent facilities for those who wish to spend the night. The Forest Department also has cottages for hire.
Bhimashankar Wildlife Sanctuary
Bhimashankar Wildlife Sanctuary, 100 square kilometers with leopards, sambars, barking deers, wild boars, Hanuman langurs and Rhesus macaques roaming freely amidst the rich variety of flora and fauna makes it a nature lover's paradise. Jyotivanti trees, which glow in the dark during monsoon, add to the charm of the mist laden chilly atmosphere.
An important pilgrimage center, Bhimashankar is a beautiful black rock structure built in the Nagara style of architecture, the temple dates back to the mid 18th century. Believed to have been built during the reign of the Peshwas, the temple surprisingly displays a relic of the Portuguese time, a large bell hanging between two huge pillars in the courtyard. A small path behind this temple leads to a natural Shiv ling in the riverbed, a short distance down stream, only visible when the water level is low. Besides the temple, the two picturesque lakes, Kamalja Devi and Hanuman and the highest point, Nagphani make up the spots of tourist interest. Shaped as the hood of the snake, a short climb from the temple it offers an amazing panoramic view. Tungi Padar and Peth forts just below and the Matheran Range is visible in the distance.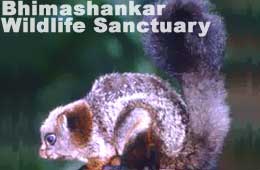 While thousands congregate to this temple during Mahashivratri and Tripuri Purnima, Bhimashankar with its breath taking views and thick forest cover has always been a favorite of tourists and trekkers. A trek to Bhimashankar, is an ardourous 11 kilometer long journey from Khandas is one the most wonderful treks. The highlight of the trek is long stretches of thick forest, a perpetual twilight zone and the innumerable thundering cascades and gurgling streams.
Getting There
By Air: Nearest airport is Pune 95 kilometers away
By Rail: Nearest railhead is Pune.
By Road: Bombay-Bhimashankar 265 kilometers via Pune.
Accommodation
There are two bungalows run by MTDC with a capacity of eight beds and tents. Reservations can be made from Bombay and Pune.
Other Wildlife Sanctuaries of Maharashtra are the Dajipur Bison Sanctuary, Rehekuri Blackbuck Sanctuary and Nanaj Great Indian Bustard Sanctuary.