Introduction to Temples in Tamil Nadu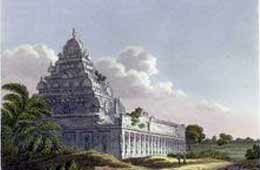 The skyline of the state of Uttar Pradesh is dotted with the mounting towers of thousands of temples that are one of the most significant tourist attractions in the state. The Tamils, considered the greatest builders of temples built some of the most fascinating structure in the history of temples in India, ranging from temples as ancient as the pre Christian era to as new as the 20th century. Dravidian style of architecture characterizes the temples of Tamil Nadu, which are of extreme religious and historical importance. The history of temples in Tamil Nadu started with temples being built from the caves. Then it was made of brick and mortar. Stone temples were also built, especially by the Cholas and the Pallavas. Lofty towers, high walls and gateways characterized the temples since the time of the Pandyas. Some of the famous temple towns in Tamil Nadu include Madurai, Trichy, Tanjore, Kanchipuram, Palani, Tiruvallur and Mahabalipuram.
Different Temples in Tamil Nadu

There are innumerable numbers of temples throughout the state of Tamil Nadu in Southern India. Some of the most important and religious ones are listed below.

Temples in Chennai

Sri Kapaleeswarar Temple
Parthasarathy Temple
Kandaswamy Temple
Vadapalani Temple
The Shore temple

Other temples in Tamil Nadu

Nataraja Temple, Chidambaram City
Mazani Amman temple, Coimbatore City
Thirumoorthy temple, 96 kms from Coimbatore
Thiruvadigai Temple, ancient Shiva Temple in Cuddlore City
Gopinathaswamy Temple, Dindigul City
Kailasanathar Temple , Kanchipuram
Ekambaranathar temple, Kanchipuram
Kamakshi temple, Kanchipuram
Tirutthani Murugan Temple, Kanchipuram, 8 kms from Chennai
Guganathaswamy temple, kanyakumari
Meenakshi Temple, Madurai City
Madappuram Badrakali Amman Temple, 20 kms from Madurai
Brihadeeswarar Temple in Tanjavur


Indianholiday offers information on the Temples in Tamil Nadu. For further information and for booking a tour, please fill up the form below.