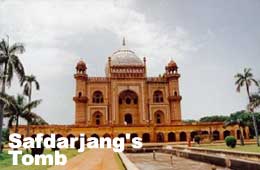 The Safdarjang's Tomb is situated next to the Safdarjang Airport. The Nawab of Awadh built it, Shuja-ud-Daula constructed it in 1753-54 AD for his father, Mirza Mukin Abul Mansur Khan 'Safdarjung'. Mirza Mukin Abul Mansur Khan was the wazir of emperor Ahmed Shah and Safdarjang was a title, which was either awarded to him by the king, or he assumed himself. It is among the last example of the Mughal style of tomb amidst a garden. The tomb represents the last phase of the Mughal Style of architecture. It shows the grace and simplicity of the Mughal architecture.
The tomb was built by an Abyssinian (Ethiopian) architect, Bilal Mohammed Khan at the cost of an exorbitant sum of Rs 3 lakhs. The marble and sandstone facing used for it was abstracted from the tomb of Abdul Rahim Khan-i-Khana, one of the nine gems of Akbar's court. The tomb is made of buff-colored sandstone with the intermittent use of red sandstone and marble. The central structure has double-storeyed minarets in the corners and a bulbous dome made of marble. Small-sized, hard-baked lakori bricks were used to construct the structure.
The dimensions of Safdarjang's tomb are all right, but the details are grumpy and workmanship unrefined in comparison with earlier tombs. The dry aqua ducts, water channels and fountains suggest that the British must have preserved the monument better as apparent from photographs. The fountains functioned because the water channels on the outer walls were elevated.
The tomb was a living monument as can be made out by the harem or zenana quarters for the royal ladies, pavilions which functioned as a royal retreat for the later Mughals, and recesses for shops on festive occasions. It was a sarai for travelers and caravans, as well as a royal retreat for pleasure, as much as obeisance to the nobleman and his wife, Bano Khujista Begum. Their graves are placed in the domed underground burial chamber, below the cenotaph in the central chamber.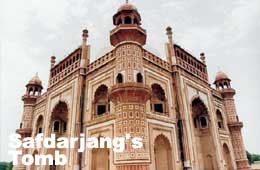 The central chamber is carved and finely polished, surrounded by oblong and square compartments. Sunlight enters through the latticework. The three-domed and arched mosque with whaleback roofing at the entrance is apparently a later addition. Arches and domes according to one account, were brought to India from Turkey and Persia.
The Arabic inscription on the gateway to the tomb says, "When that hero of the plain of bravery departs from his transitory world, may he become resident of God's highest paradise (Hegira 1167; AD 1754)."
The complex now houses the sub-office of the Archaeological Survey of India (ASI), which organizes heritage walks under the aegis of the India Habitat Center.