The Kalki Temple at Jaipur is the only temple in India dedicated to the incarnation of God not yet born. According to Hindu mythology, Kalki is the tenth and the last incarnation of the Lord Vishnu who is yet to born. Kalki literally means 'Born of Time'. Lord Kalki is believed to come on a white horse with a shinning sword in his hand and protect the mankind from prevailing chaos and confusion in Kal Yuga.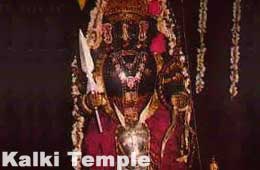 Raja Sawai Jai Singh, the founder of Jaipur built the temple of Kalki in 1727 AD at the time he was building the city. He was a keen student of Vedic texts and a Hindu revivalist. Jai Singh built the Kalki temple right opposite the eastern entrance to the City Palace. The location of the temple was important but still it was not given a prime position in the street. The temple was built behind the street of impressive buildings. The temple can be entered through a ceremonial archway in two easy slopes through a ramp way rather than a staircase that opens at the street. The temple is built over a 20 ft high plinth. There is a ramp within the temple complex leading up to the temple. A canopied kiosk in one corner contains the fine marble statue of a horse facing the temple, which is supposedly the mount of Kalki. The ramps are probably constructed to facilitate the horse to climb up and down easily. Historians also believe that Jai Singh was the last Hindu ruler to have performed Ashwamedha Yajna, an ancient Vedic rite and the horse was sculpted to commemorate the event.
The temple is constructed of stone in typical style of temple architecture of North India. The only exceptional feature in the temple is that it has two sikhars instead of one. The smaller sikhar at the back is called the Lakshmi Niwas, the abode of Goddess Lakshmi. It was constructed to build the idol of Padmawati Devi. The statue, however, is kept with that of Kalki under the main sikhar.
The temple is close ever since it was built waiting for the birth of the Lord Kalki. A caretaker priest appointed by the state government looks after the cleanliness of the temple and opens it periodically.