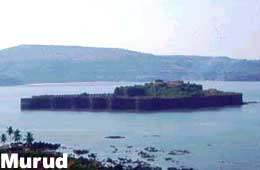 Murud is a village in Raigad district, south to Alibagh in the state of Maharashtra. It was the capital town of the Siddis of Janjira. The place is full of coconut and betel nut trees and has a nice and prosperous seashore. Murud is not a big village but it is famous for the Island Fort of Murud-Janjira. Janjira is Marathi corruption of the Arabic word Jazirah, which means an island.

The Janjira Fort was built by the rulers of the Ahmed Nagar under the patronage of emperor Malik Amber in the 15th century AD. The fort is build in the sea 2 km inside of Murud. This is one of the vital sea-forts in Maharashtra. It has strong walls 40 ft high and standing intact even after being battered by the sea waves from all four sides. the fort was never conquered by any enemy for over 350 years. Shivaji, Sambhaji and the Peshwas tried to take over the fort. But the Marathas, British or Portuguese could never capture Janjira.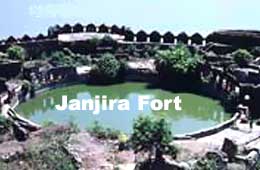 The fortress was originally built of wood by the Murud fishermen to protect their village from pirates. Buran Khan, the minister of the ruler of Ahmed Nagar, Nizamshah, demolished the fortress later and built an impregnable stone fort in its place. The Janjira Fort had a number of towers and turrets where huge guns and cannons were kept in perpetual readiness to ward off enemies. Once the fort boasted of 500 canons but today only a few are left. The famous among them are Kalal Bangadi, Chavari and Landa Kasam. The 2 water tanks inside the fort and some tombs are worth watching. A stone carving on the main entrance depicts six elephants trapped by a single tiger, which is the symbol of bravery of the Siddis. There are two sweet water lakes inside the fort, which exist even today.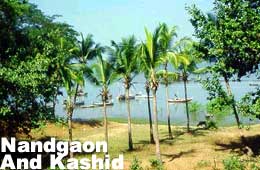 Some of the monuments inside the fort and the walls of the fort are destroyed after so many years now. There are in all 19 Burj in the fort. And every burj has huge guns on it. The 3 big guns Kalal Bangadi, Chavari and Landa Kasam are very famous. Padmadurg Fort was built by Shivaji to northwest of Janjira. Although it is not as big as Janjira, yet it is worth a visit. The Shrine of Dattatreya representing Brahma, Vishnu and Shiva are on a hillock to the north of Murud. The Palace of the Nawab and the Janjira Caves are also a must for the tourist. Just a few kilometers away are two undiscovered beaches of Nandgaon and Kashid. Nandgaon is famous for its Ganapati temple and the annual fair held in honor of the Lord Ganesha every February.

The Fort of Janjira was an architectural marvel. Much of the fort has been corroded and washed away after centuries of battering by the ocean. The fort is old one but still very strong.