About Bhairon Vilas Hotel

Maharaja Ganga Singhji was the 21st ruler of the Bikaner state he was one of the most renowned rules of his time. Maharaj Bhairon Singhji was the Prime Minister of Bikaner state during the reign of the Maharaja Ganga Singhji.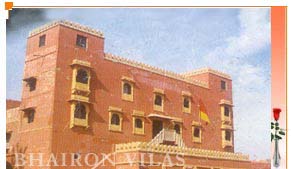 The builder of Bhairon Vilas, Maharaj Bhairon Singh Ji was a cousin of the 21st ruler of Bikaner Maharaja Ganga Singh Ji, Maharaj Bhairon Singh Jiís entire life was spent serving the state of Bikaner, In 1916 he became the Prime Minister of Bikaner he was conferred with the prestigious award K.C.S.I. Knight commander of the most exalted order of the star of India) By lord hardings & then viceroy of Governor General of India. This award was presented to him for the exemplary services to the state of Bikaner.

In the premises of the Hotel, there is a temple dedicated to god Bhairon. The idol placed is the one found by late Maharaj Bhairon Singhji. This great god worshiped to ensure peace and prosperity in the family and still a large section of the locals come daily to pay their respect at this temple bringing with them sweets & flowers.

The foundation stone of Bhairon Vilas was laid in the year 1872. This Haveli was the personal residence of Maharaj Bhairon Singhji. . This property not only name dafter itís great builder but because of statue of god Bhairon. It was found while digging the ground to place the foundation stone it was believed to be an omen of good luck and good fortune. The Haveli is land mark building many distinguished dignitaries have visited the Bhairon Vilas some of them are lord themsford, Lord Hardings, Lord Curzon and all viceroys & governor general of India. This property is ideally situated near the Junagarh fort more places worth visiting are at a convenient distance from here.

Hotel Specifications


Accommodation

The hotel consists of 18 well-decorated rooms. Each room has itís own unique style and highlights the legendary history of the Rajputs.

The rooms have old Jharokhas or carved windows still existing from olden days, woman from bygone era used to watch all celebrations from here as they were not allowed to mingle with the gents. And some of rooms have glided leaf work.