About Basant Vihar

Basant Vihar Palace Palace was built because of a 'fanciful desire' of His Highness Maharaj Sri Ganga Singhji, a connoisseur of architecture and one blessed with an artistic sense.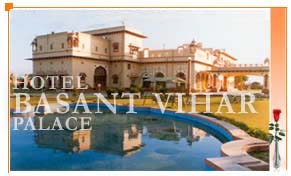 It was designed by him to be a separate pleasure garden adjoining the Zanana bagh (Royal Ladies' Garden) of Lalgarh Palace. In 1993, the House of Bikaji converted this masterpiece of architecture into a heritage hotel - Hotel Basant Vihar Palace Palace. An endeavour to offer tourists a true flavour of history and royal living (as opposed to the usual star-category hotels), Hotel Basant Vihar Palace Palace today, remains a 'garden of eternal spring.'

Hotel Specifications


Accommodation

Hidden away in a secluded area, the hotel is surrounded by well laid out gardens, fragrant flower beds and soothing lily ponds. And though it is completely refurbished from the inside, great care has been taken to preserve the original character of the rooms - 21 in all including 3 suites, all of which are fully air conditioned and fitted with satellite television.



Dining

In the royal kitchens of Rajasthan, food was such serious business that it was raised to an art form. At Hotel Basant Vihar Palace Palace, our chefs are trained to continue this practice. Encouraged to experiment and excel, they whip up mouth watering Mughlai, Chinese and Continental delicacies. As for Rajasthani cuisine, recipes passed down the generations are what we pride ourselves in.

Conference and Banquet Facilities

Hotel Basant Vihar Palace Palace gives out its lush green palace garden for exclusive theme parties, weddings, receptions, etc. Beautifully lit up and decorated, it forms the perfect setting for all occasions. And can even offer an ethnic festive atmosphere with royal Rajasthani sitting, cuisine, folk music and dance.

Recreation & Health Center

Musicians dressed in traditional Rajasthani outfits enthrall guests at the hotel with local Rajasthani melodies played on authentic instruments. The adventurous can go on camel safaris, the highlight of which is a day-trip into the Thar Desert - India's largest sea of sand.